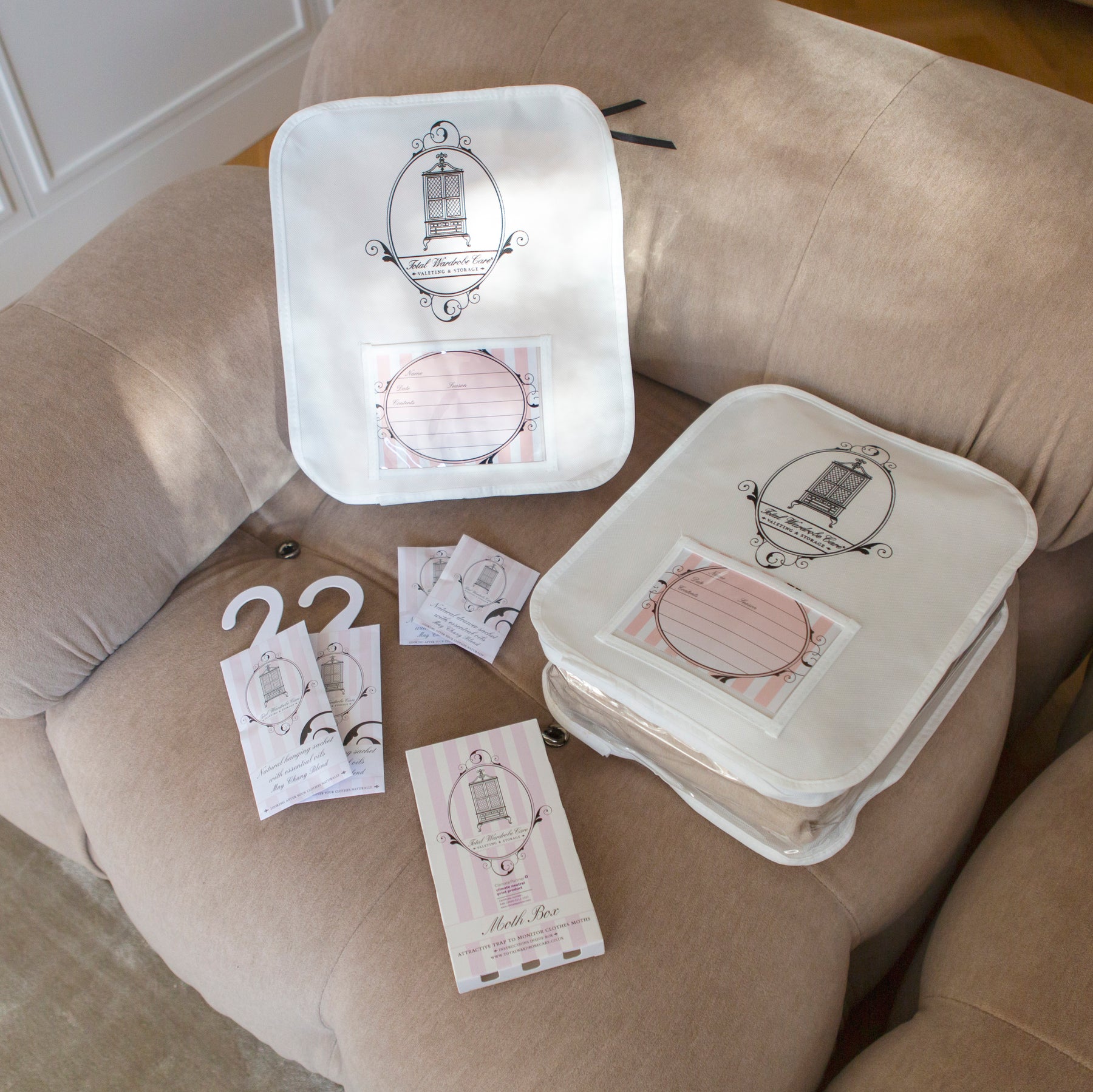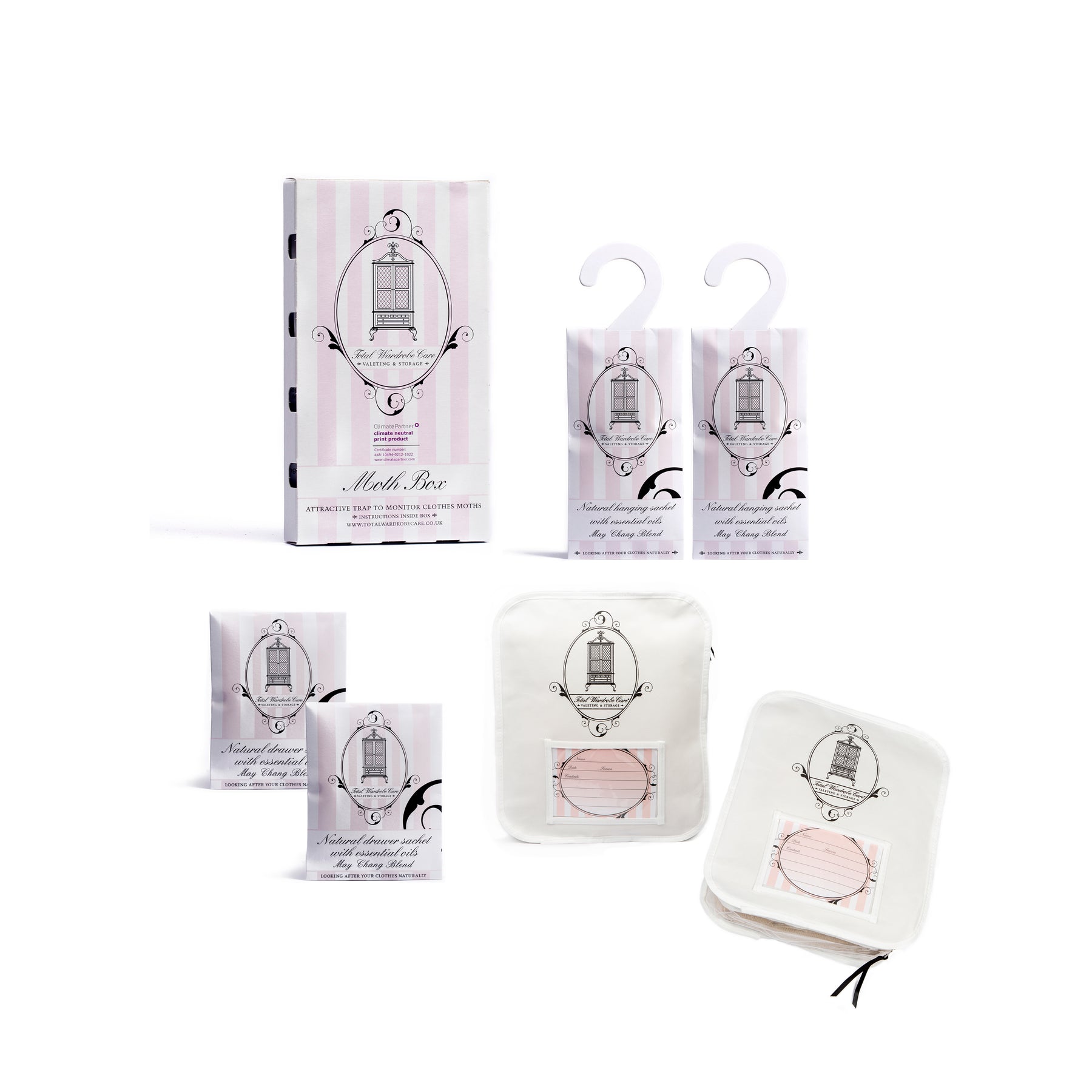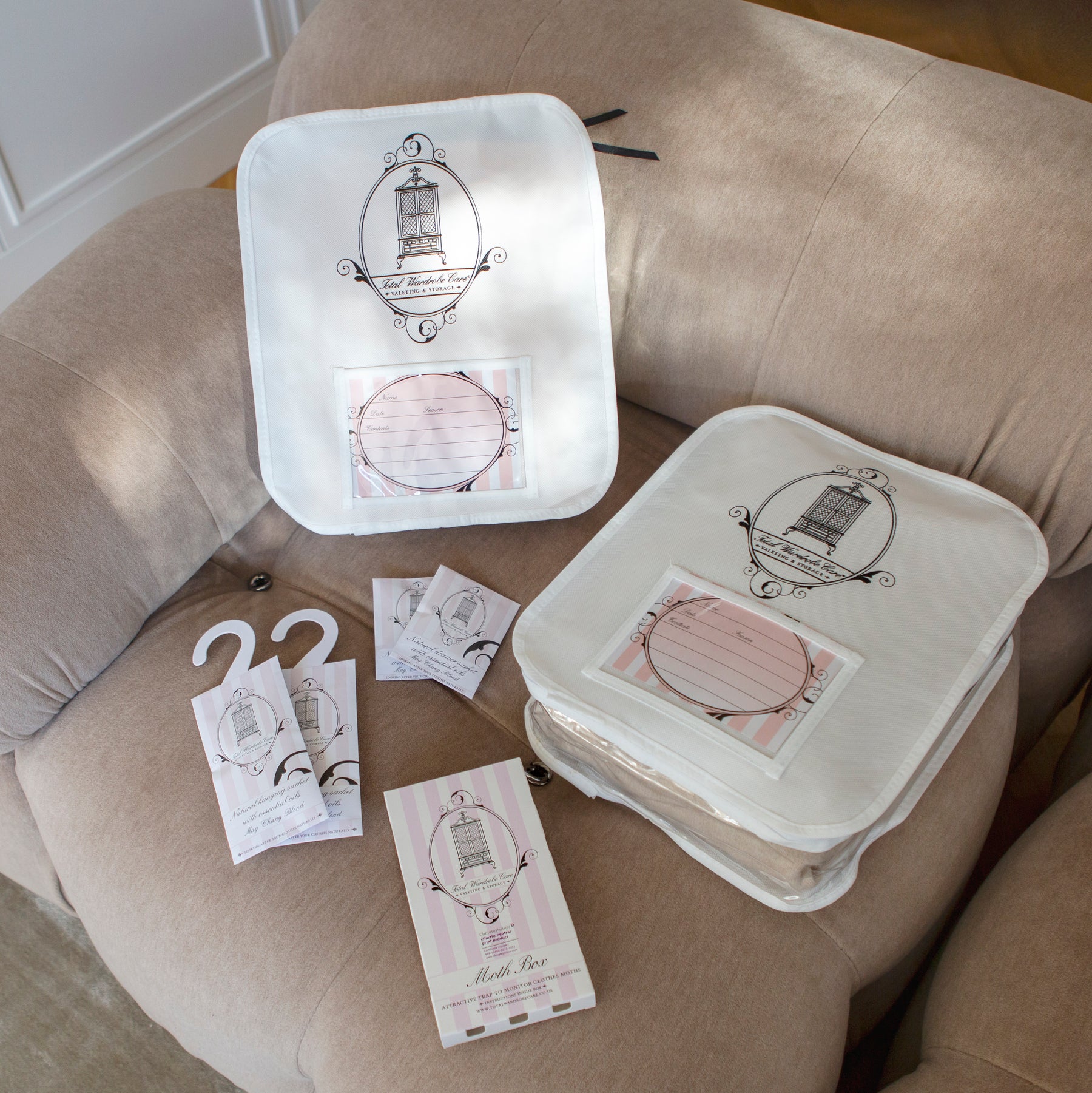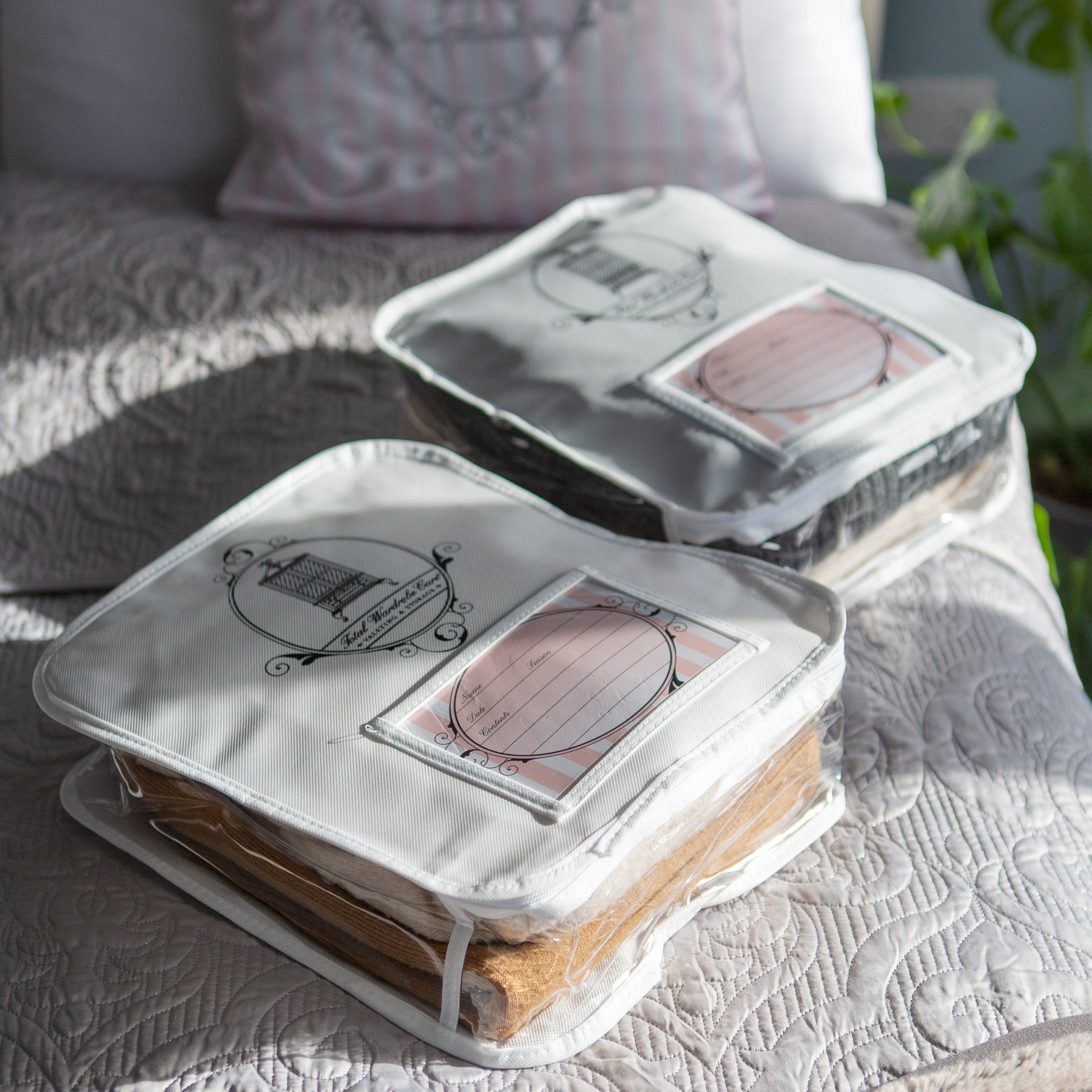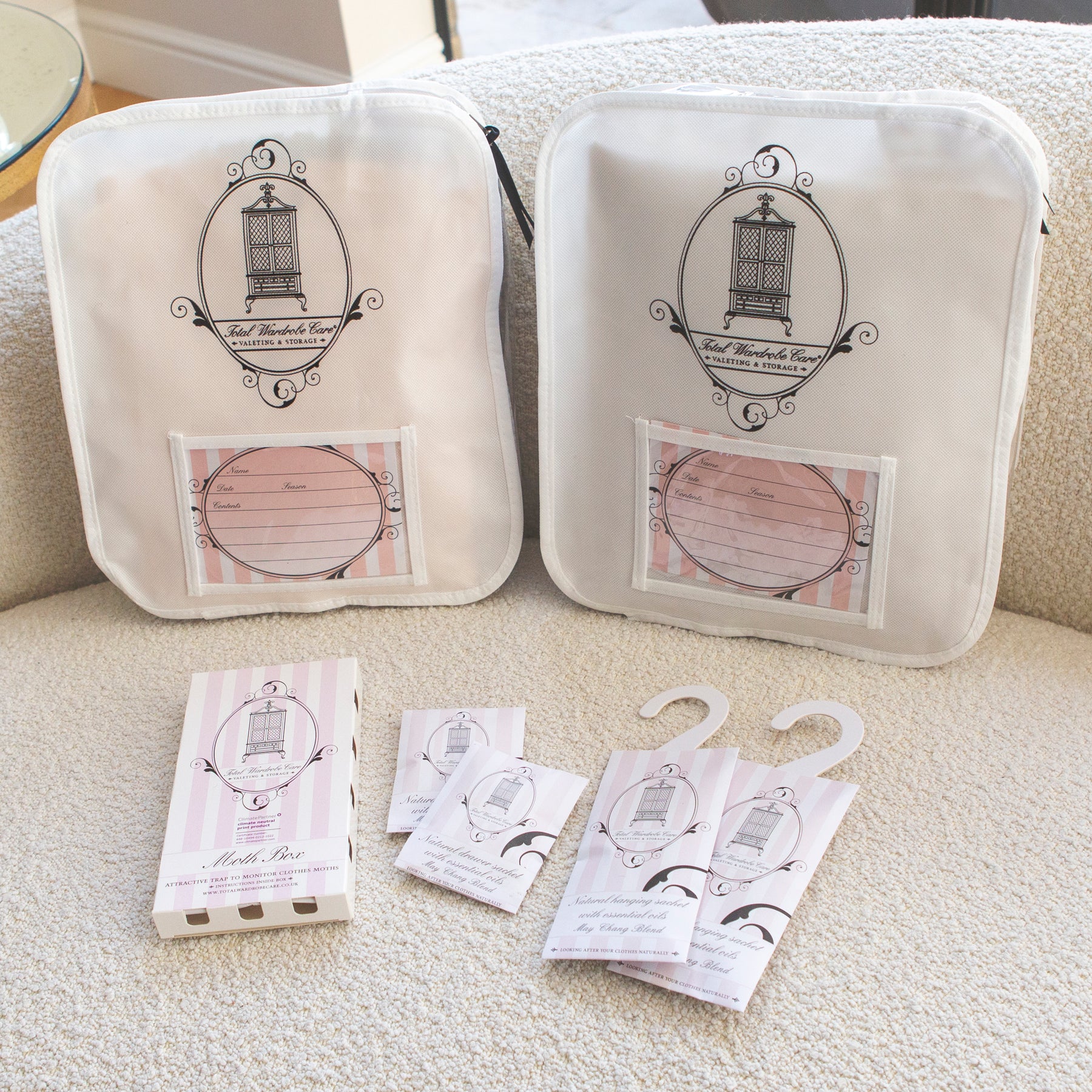 Anti-Moth Starter Pack
Pickup available at Total Wardrobe Care
Usually ready in 24 hours
Total Wardrobe Care
Pickup available, usually ready in 24 hours
Unit 4 Farringdon Industrial Centre, The Old Station Yard
Lower Farringdon, Hampshire GU34 3DD
United Kingdom
Suspect you have moths but are unsure what to do next? The most important thing is to take action before things get out of control. Total Wardrobe Care's Anti-Moth Starter Pack includes a range of our most effective Anti-Moth Products to help you on your way to a moth-free wardrobe.

EACH PACK INCLUDES:
2 x Knitwear Bags
1 x Moth Box
2 x May Chang Hanging Sachets
2 x May Chang Drawer Sachets
PRACTICAL MOTH SOLUTIONS
2 x Knitwear Bags
Keep moths away from your precious garments in our dust free breathable
Knitwear Bags
. Each bag stores and protects up to ten fine knits or two chunky ones.
1 x Moth Box
The
Moth Box
 is designed to stop the breeding cycle by attracting and trapping the male moths on the female pheromone-impregnated adhesive strip. The Moth Box will help you monitor the problem and enable you to take further action if necessary. It is effective for 12 weeks after opening.
2 x May Chang Hanging Sachets
Our
May Chang Hanging Sachets
are filled with our all-natural handmade anti-moth essential oils in a natural stone powder base. These fragrant sachets are proven to deter moths and will protect and refresh your wardrobe for approximately 6 months.
2 x May Chang Drawer Sachets
Our
May Chang Drawer Sachets
 are filled with the same hand-blended recipe of essential oils and should be placed between piles of garments in your shelves and drawers.
SAVE £9.00
Our bundle of anti-moth products will save you £9.00. Read our
Expert Tips
&
Blogs
for the best guides on
How to Get Rid of Clothes Moths
.
- 2 x Knitwear Bags
- 1 x Moth Box
- 2 x May Chang Hanging Sachets
- 2 x May Chang Drawer Sachets


Your Questions
FAQs
Below you will find some common questions asked by our customers.
You should start off with a good clean of your clothing storage. Vacuum thoroughly every drawer and wardrobe corner and then clean with soap and water. Identify natural fibre garments and freeze or steam them, then put them in moth proof bags. Add the deterrents to your drawers and wardrobe and place a moth box in an undisturbed place, outside your wardrobe. Our Starter Pack provides everything you need to start the process of getting rid of clothes moths.
Our anti-moth products are extremely effective. We choose the very best essential oils and more to combat moths. Our Moth Traps are also a full proof way to keep moths at bay. Our range of natural anti-moth products are designed to remove the existing moth problem and prevent future moth problems.
Knitwear Bags keep your favourite garments out of reach from pesky moths and Moth Trap Boxes are ready to trap them if they do come in. Moths are adverse to the scent of May Chang, Cedarwood or Vetivert which is why we use it for our Hanging Sachets and Drawer Sachets.
Consistency over time is key for moth deterrence. It can take 4-5 weeks to break the moth life cycle. We've made sure all of our anti-moth products fit perfectly in your home and lifestyle without being intrusive in your space.