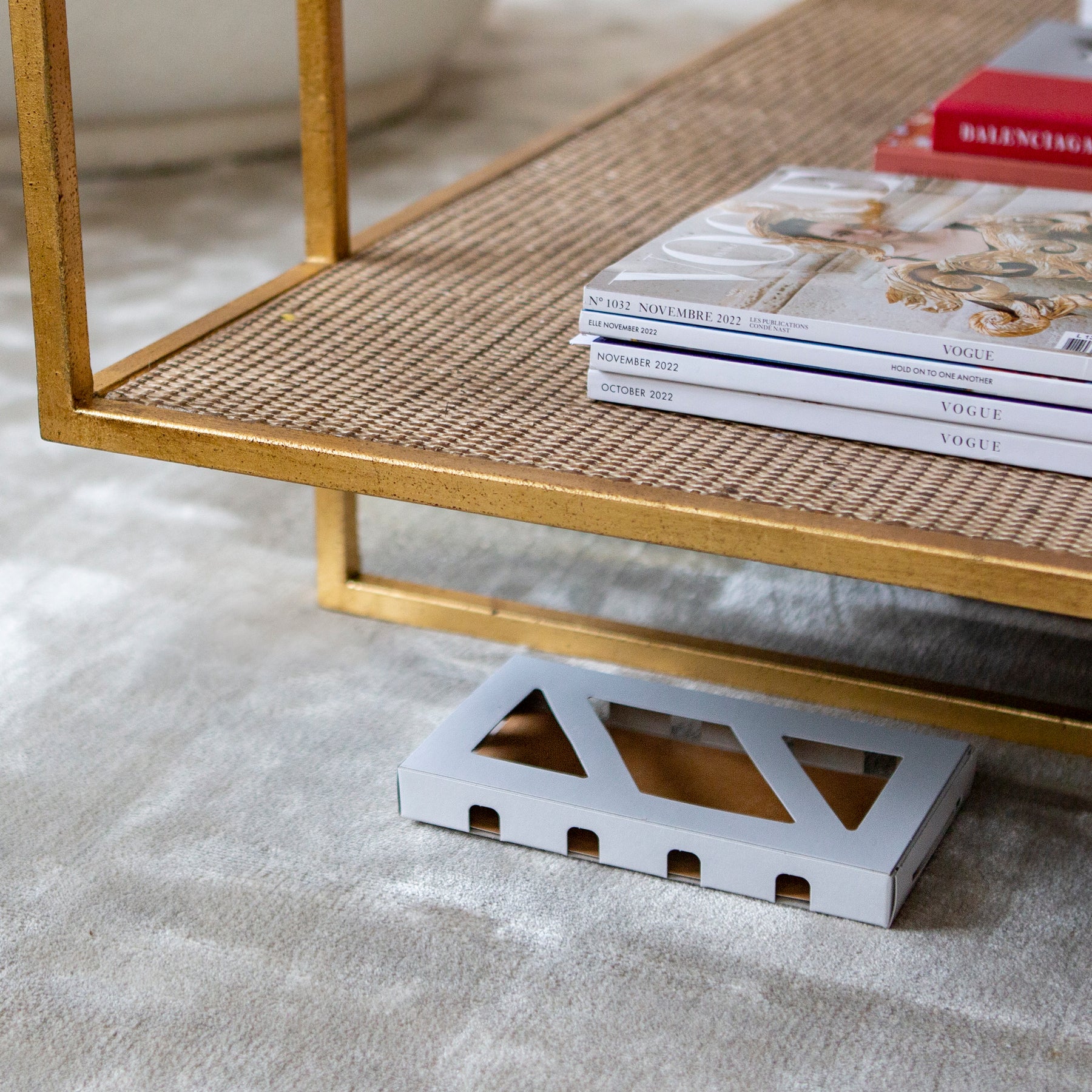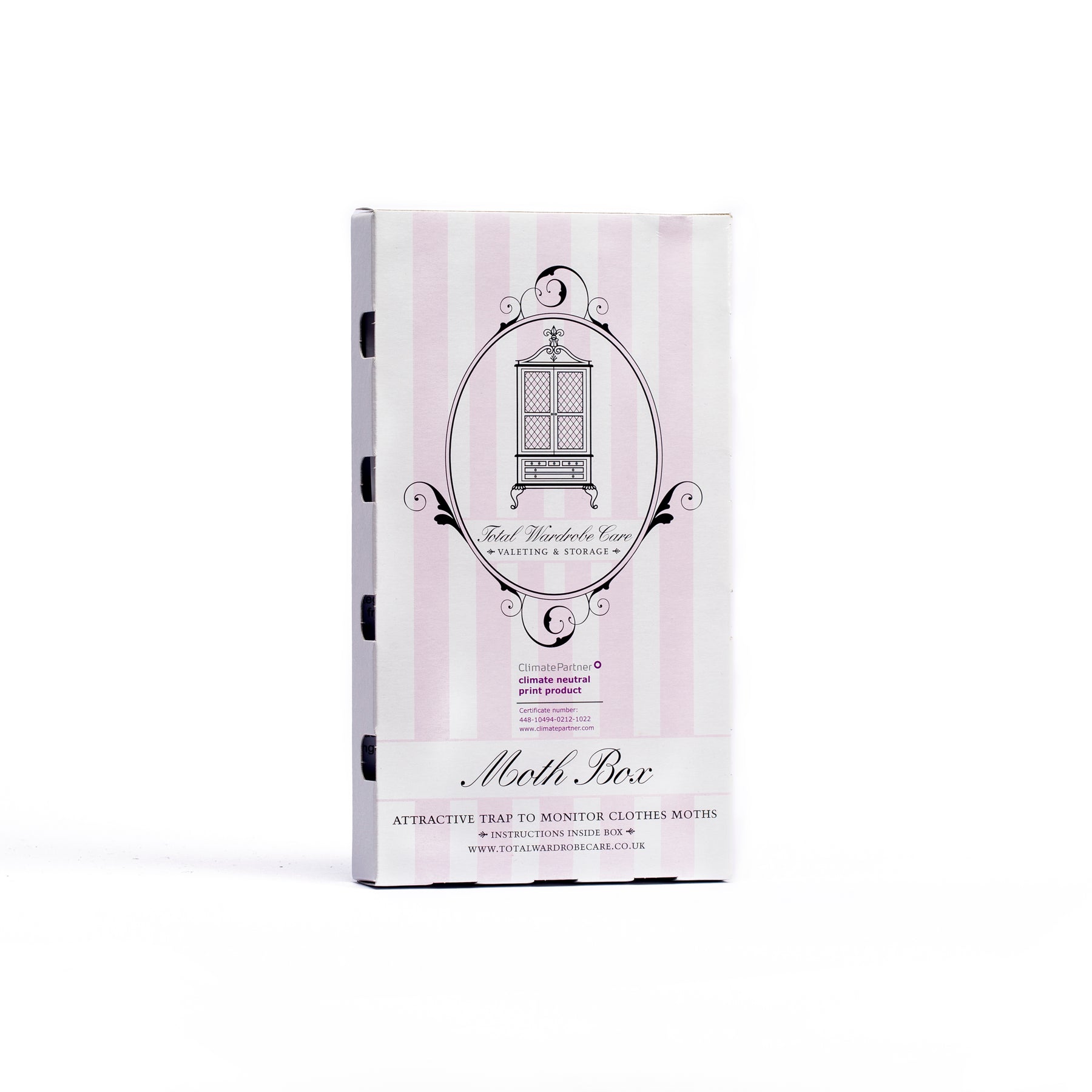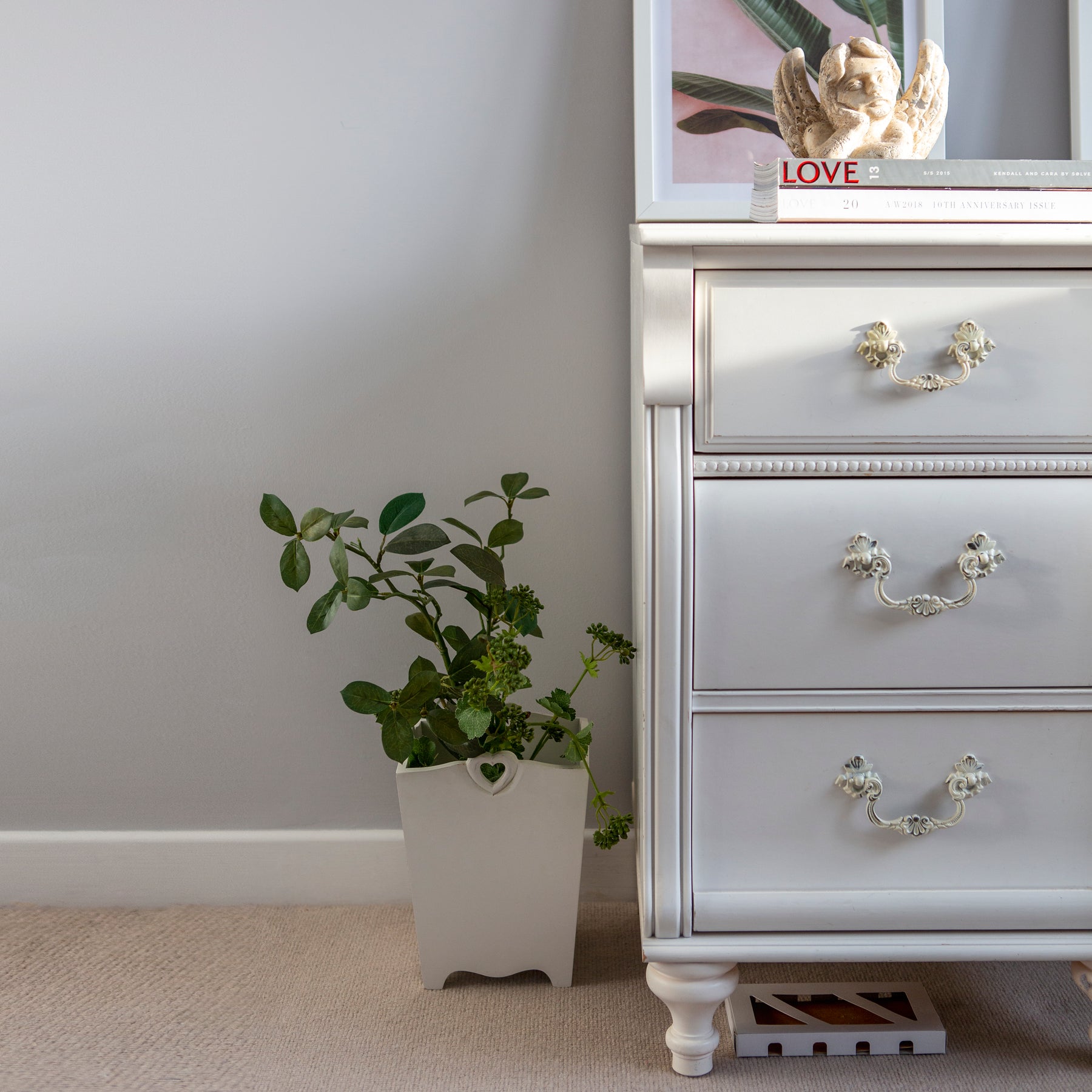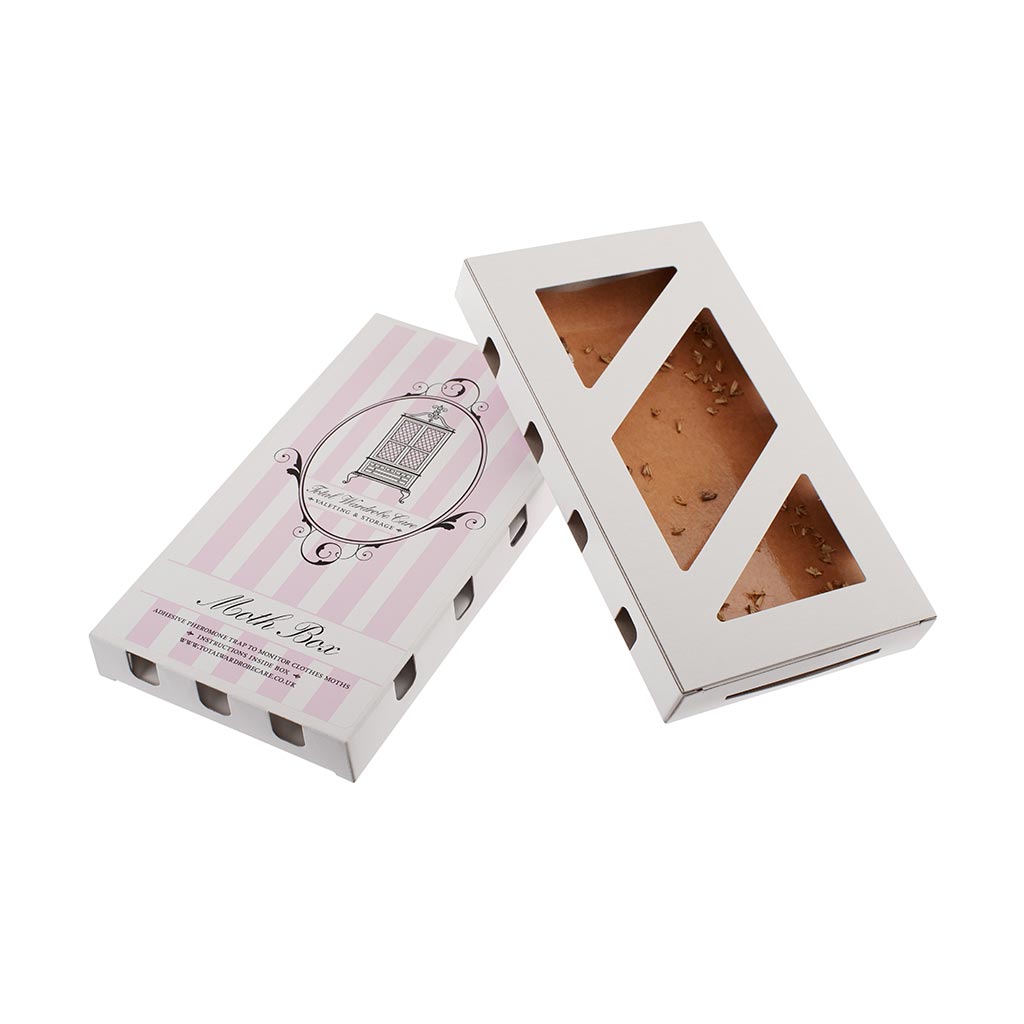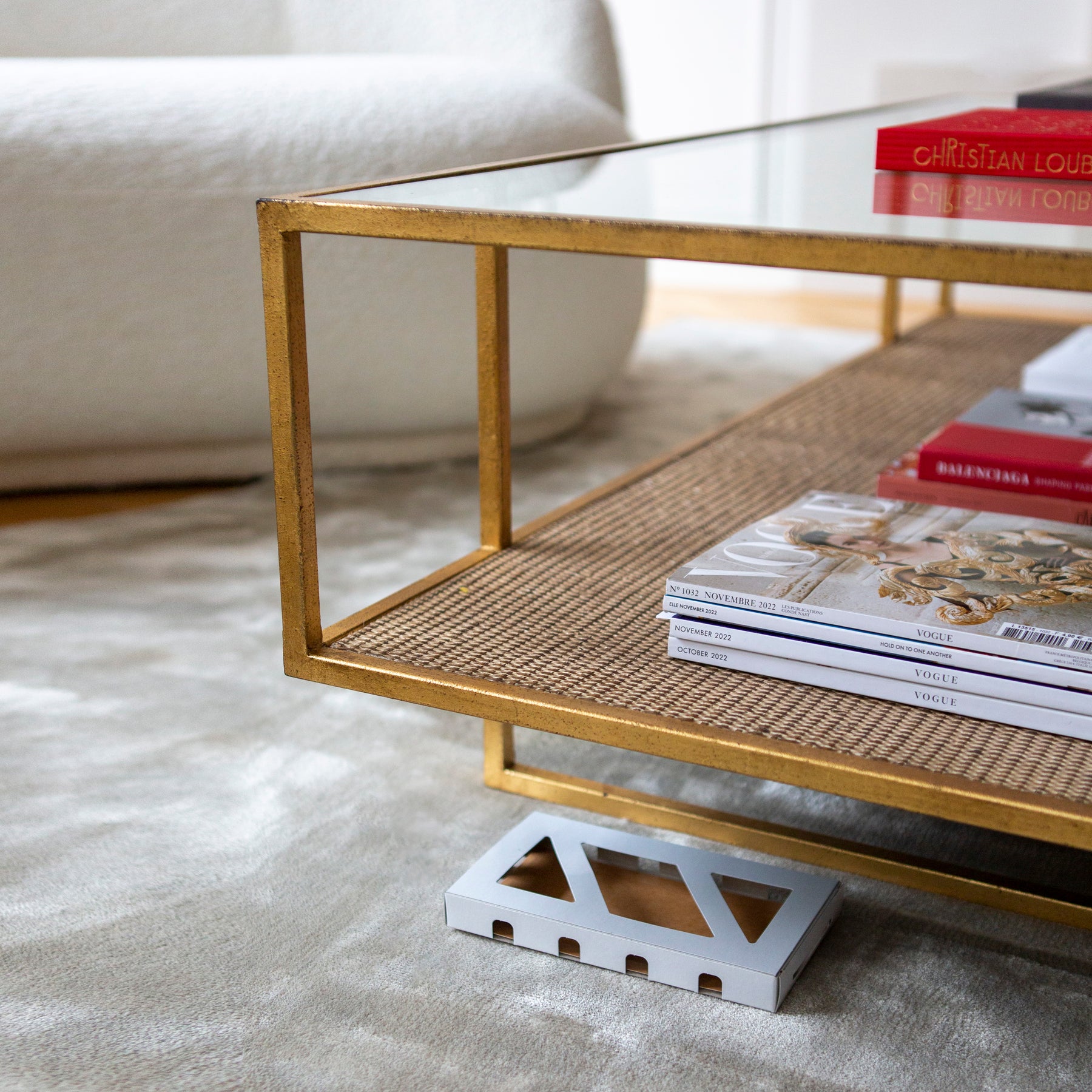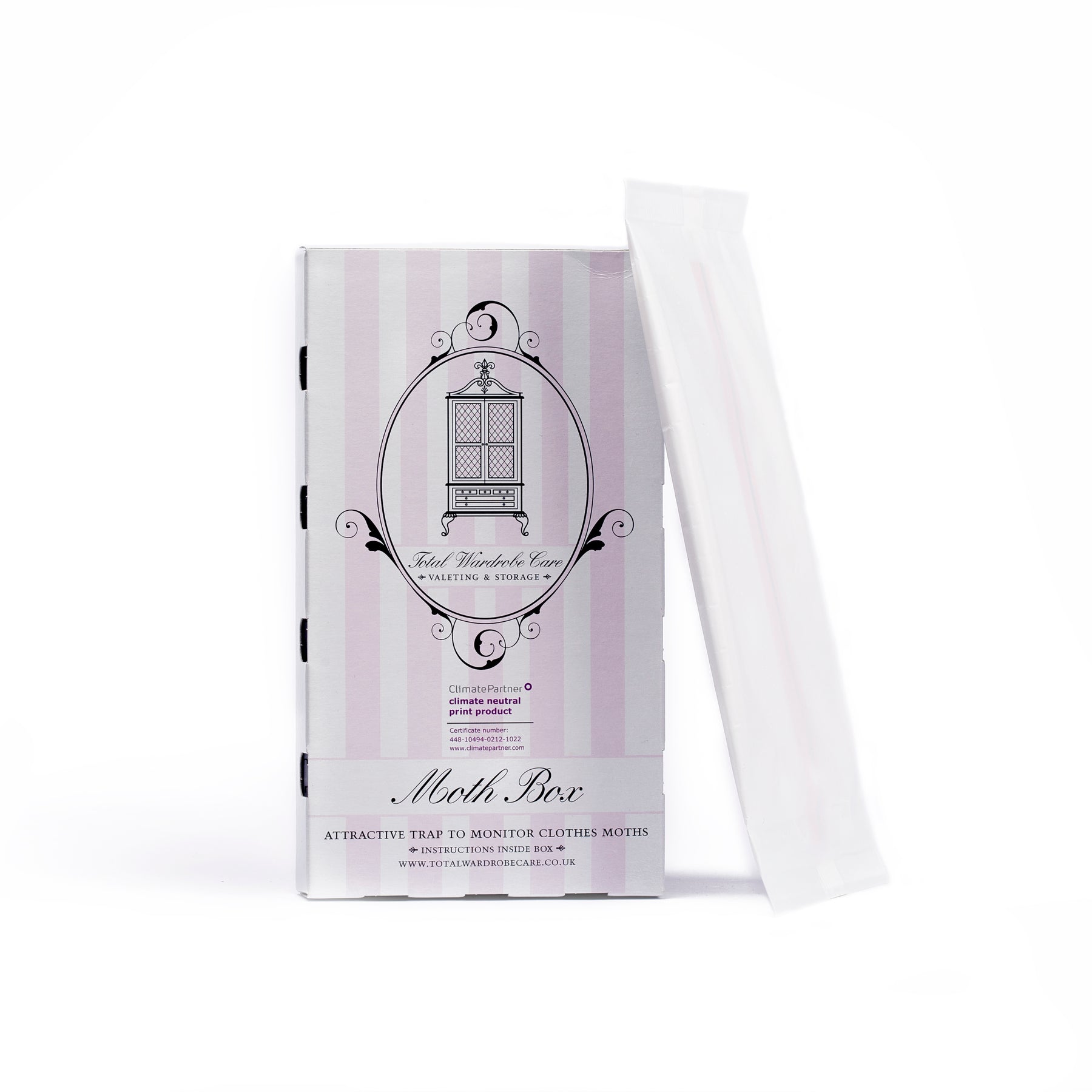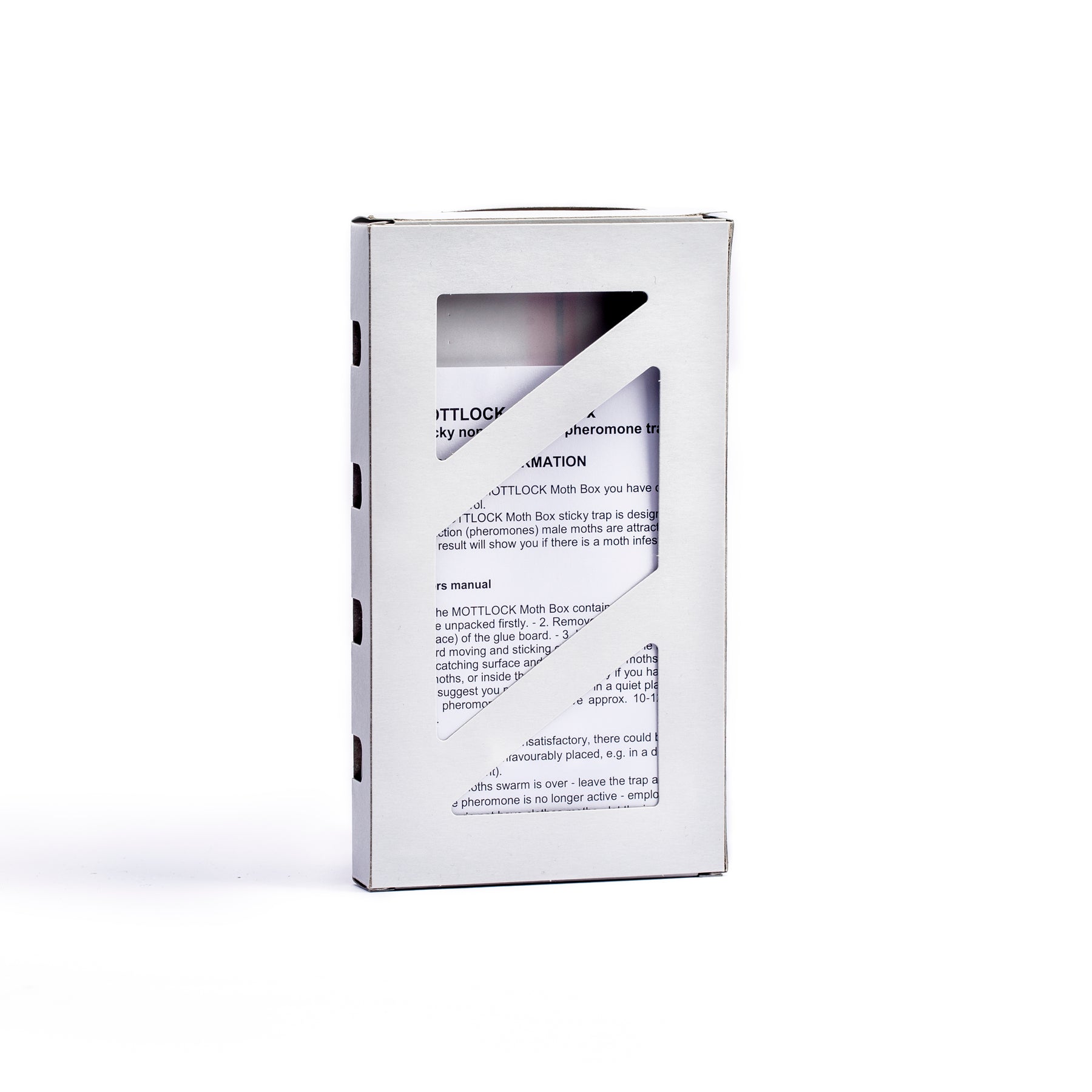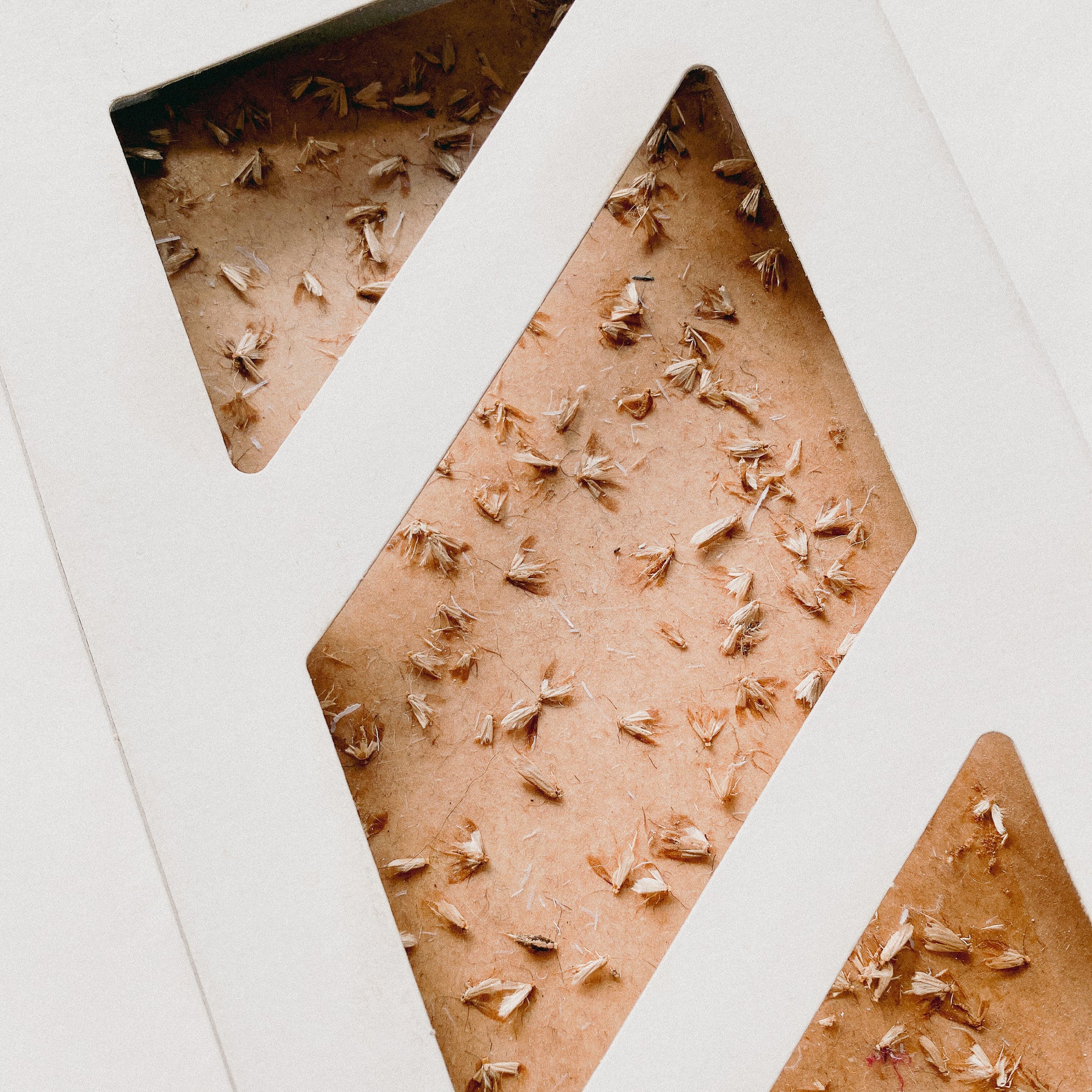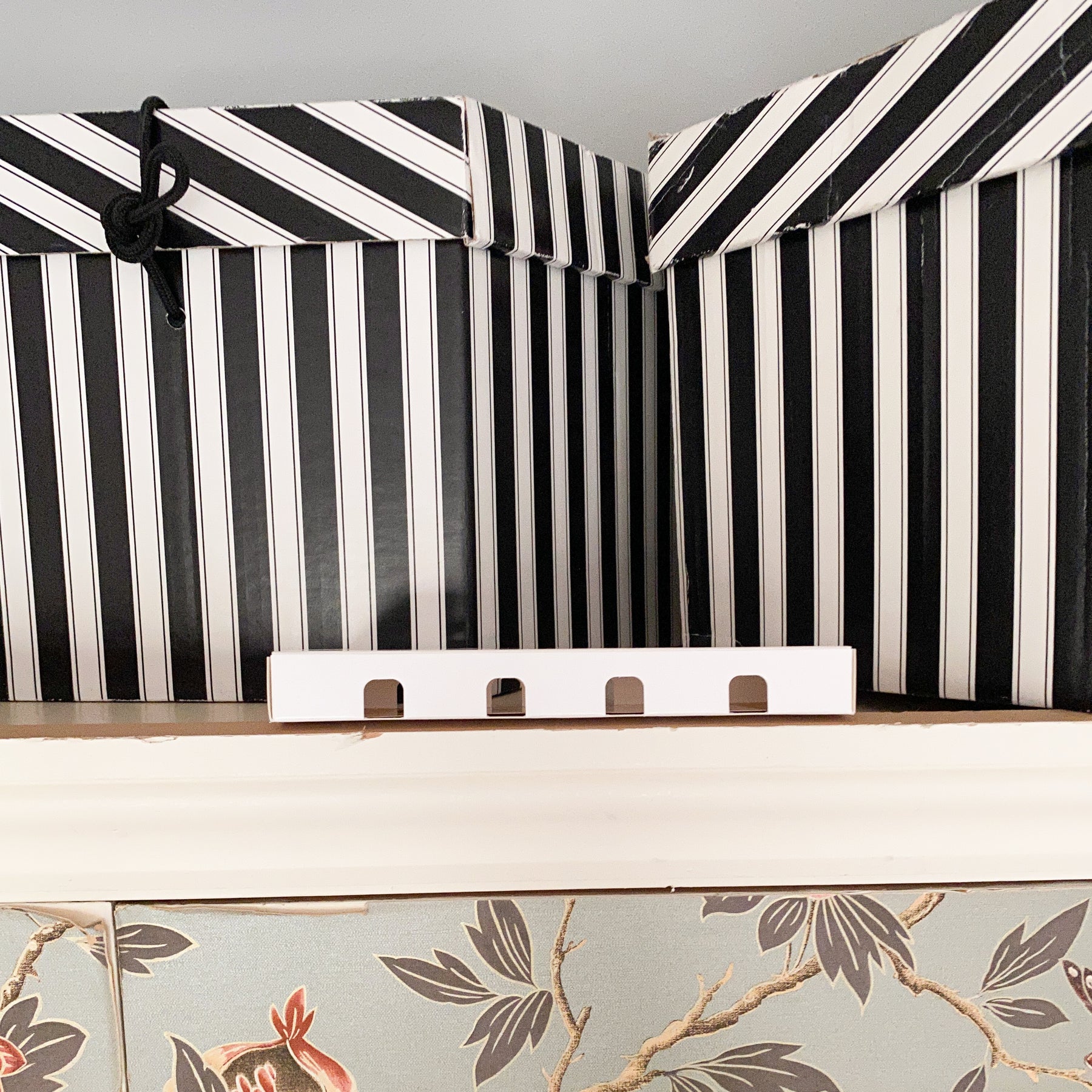 Moth Box
Pickup available at Total Wardrobe Care
Usually ready in 24 hours
Total Wardrobe Care
Pickup available, usually ready in 24 hours
Unit 4 Farringdon Industrial Centre, The Old Station Yard
Lower Farringdon, Hampshire GU34 3DD
United Kingdom
Have you ever found a hole in your favourite cashmere sweater before a night on the town? Have your favourite work trousers been destroyed just before an important meeting? If so, it is time to stop clothes moths in their tracks with Total Wardrobe Care's Moth Box Trap!
WARDROBE RECOVERY WITH OUR PHEROMONE MOTH TRAP
Total Wardrobe Care's Moth Box Trap has been specially designed to stop the breeding cycle of moths that lay eggs. It is important to do this effectively, so you can achieve long-term moth free results and accomplish a full wardrobe recovery.
HOW DO MOTH TRAPS WORK?
Our effective Moth Box Trap attracts the male clothes moths onto the female pheromone-impregnated adhesive strip, which traps and kills moths. It is a completely non-poisonous alternative to chemical insect control and can be used in your rooms all year round.

It's simple: if there are no adult male moths to impregnate the female clothes moths, that means no moth eggs can be laid. This needs to be achieved as it is the clothes moth larvae that hatch from the eggs which cause the wardrobe destruction that we all want to avoid, not the adult clothes moths themselves.
HOW TO USE THE CLOTHING MOTH TRAP
The Moth Box Trap is easy to use and is very effective at catching moths. Simply place the box somewhere undisturbed, outside the wardrobe - on a shelf, under the bed, or under a chest of drawers.

The number of moths caught in the moth box trap will determine the intensity of your moth problem. If the moth trap fills up after catching lots of moths within 1-2 weeks, it is important to clean out the entirety of your wardrobe to ensure your moth infestation has completely dissipated. It is crucial to clean and control all the places where a clothes moth is likely to hide and pupate. Clean inside cracks in walls, and behind furniture, shake out textiles, and beat carpets regularly for best moth control results.

For the most effective pest control, you can use multiple moth treatments simultaneously, such as Total Wardrobe Care's natural Chrysanthemum Moth Spray which will kill all moths, eggs, and larvae.

If you are catching 1-2 moths per week you are unlikely to have a clothes moth infestation problem.

Once opened, the clothes moth pheromone traps are effective for 12 weeks. Moth Both Trap Refills are available in packs of 2.
IN THE PRESS
Since launching our products in 2007 we have been featured in a range of established publications. The Moth Box Trap has been featured in both You Magazine and Country Living UK. By combining the moth trap with Total Wardrobe Care's range of Moth Repellent Products, your wardrobe will be even better protected from moths and will exude a lovely New Forest freshness. Be inspired, and see more of our products that have had people talking, by visiting our Media Coverage page.

Run out of sticky adhesive sheets? Buy Moth Box Refills here.

MEASUREMENTS
19 x 11 x 2cm
- Attracts the male moths
- Place somewhere undisturbed
- Effective for 12 weeks
- Refills available in Packs of 2

Your Questions
FAQs
Below you will find some common questions asked by our customers.
Yes, our female pheromone sticky strips attract the male clothes moth which traps and kills moths. It is a non-poisonous trap which can be used anywhere in your home year-round. It is a good monitoring product which helps you understand how much of a problem you have.
Our Total Wardrobe Care Clothes Moth traps contain a sticky strip laced with the female clothes moth's pheromone which will attract the male moth. The sticky strip is inside our Moth Box. You can purchase replacement sticky strips; each pheromone strip is effective for 12 weeks.
Our Moth Boxes will trap and kill moths. Dependant on your moth problem, we may also recommend using our Chrysanthemum Moth Spray or our Moth Decoy to clear a room from moths. Have a read of our guide to getting rid of moths for all the steps we recommend to kill moths and prevent further infestations.
Put the Moth Trap in the room you have noticed them. The best place to put them is under furniture or on a chest of drawers, away from the window. Don't put the trap inside your wardrobe or drawers. Leave it somewhere it won't be disturbed. The pheromone traps should be replaced after 12 weeks.