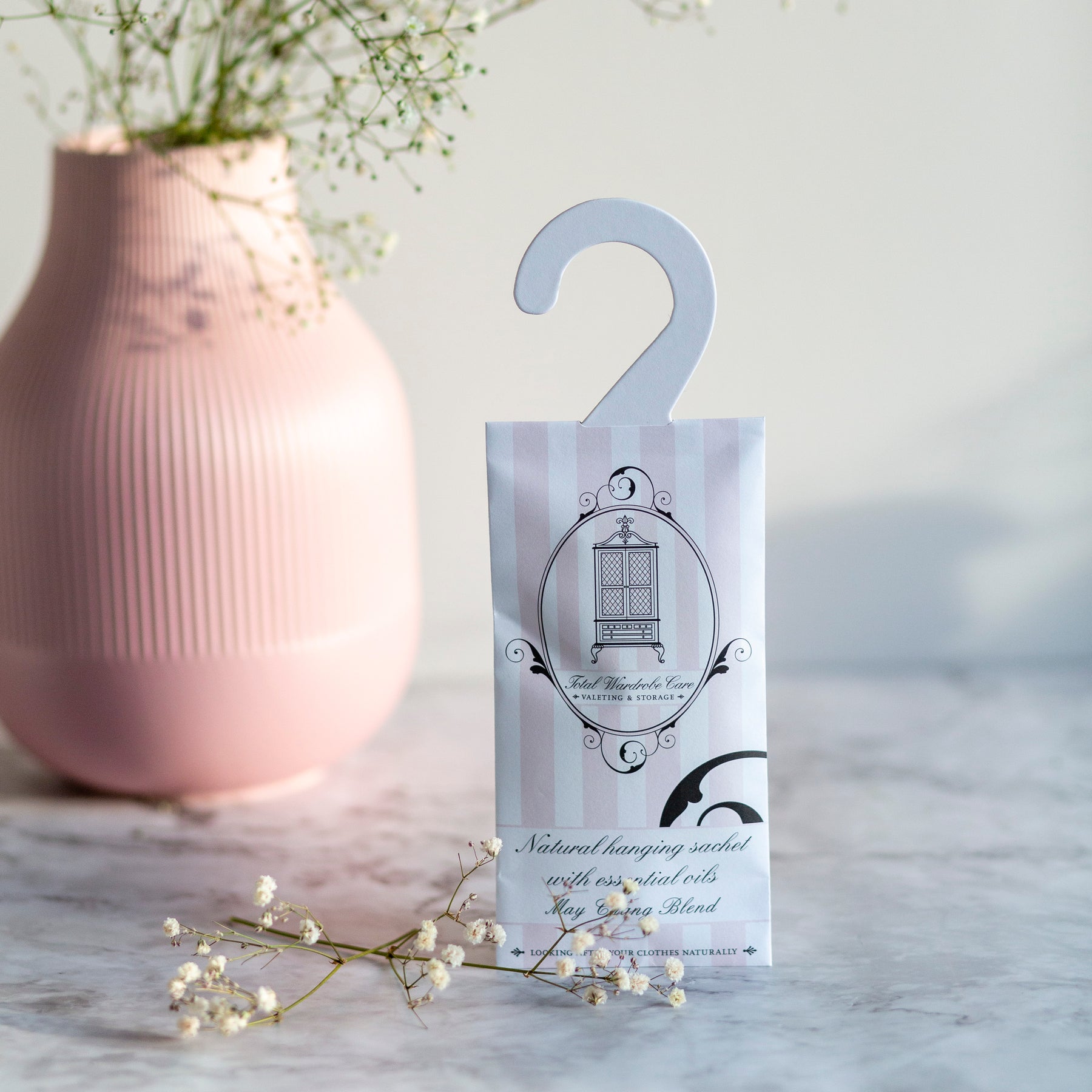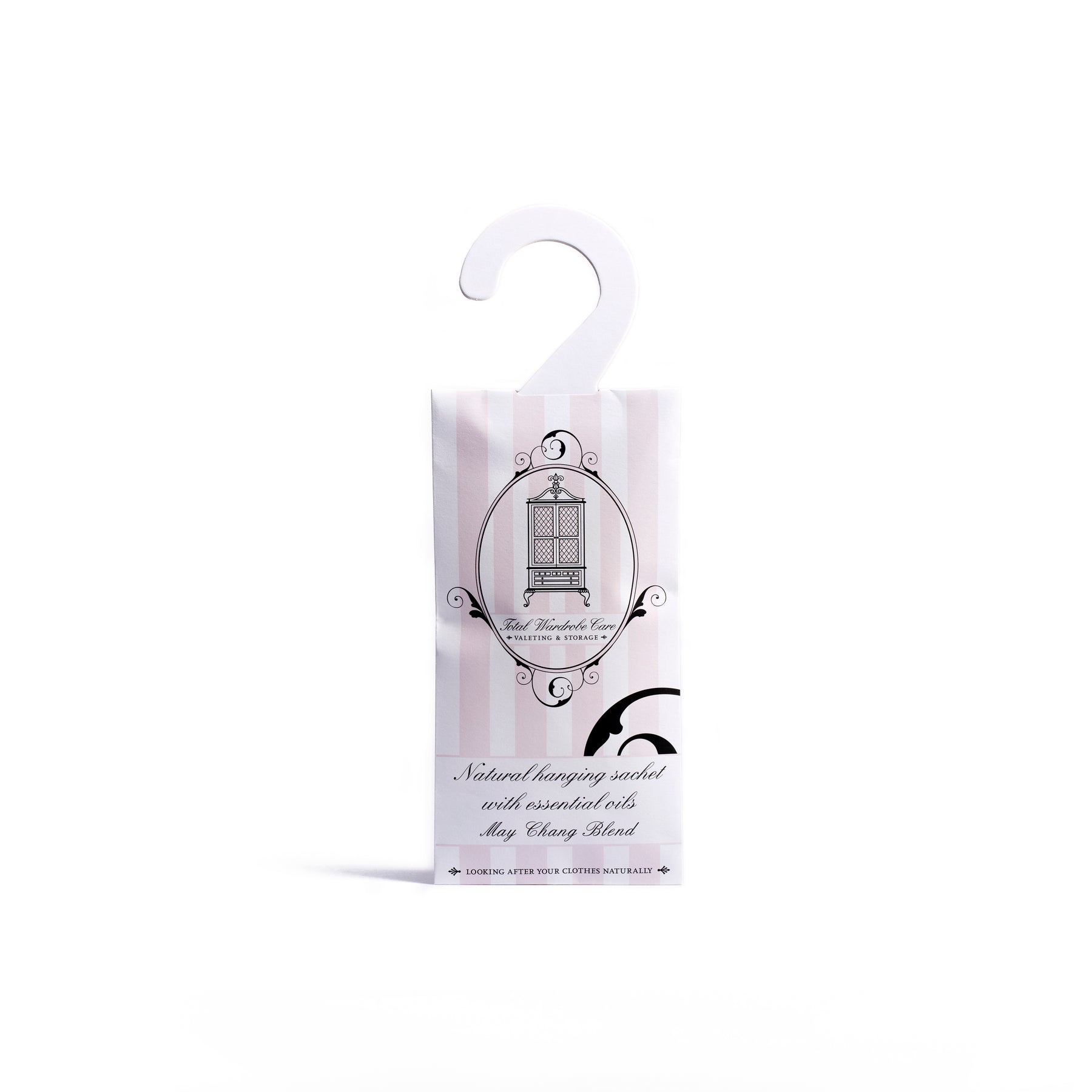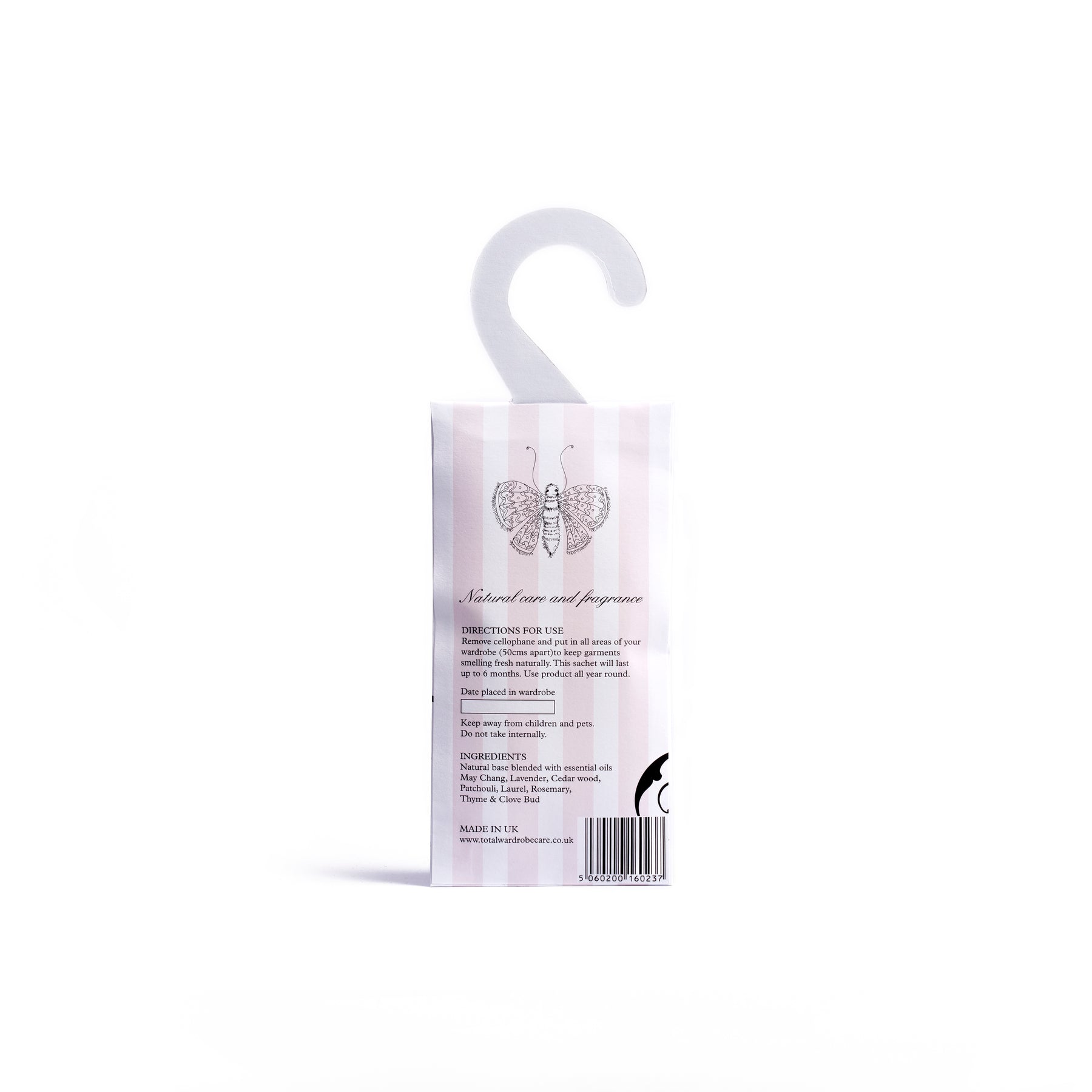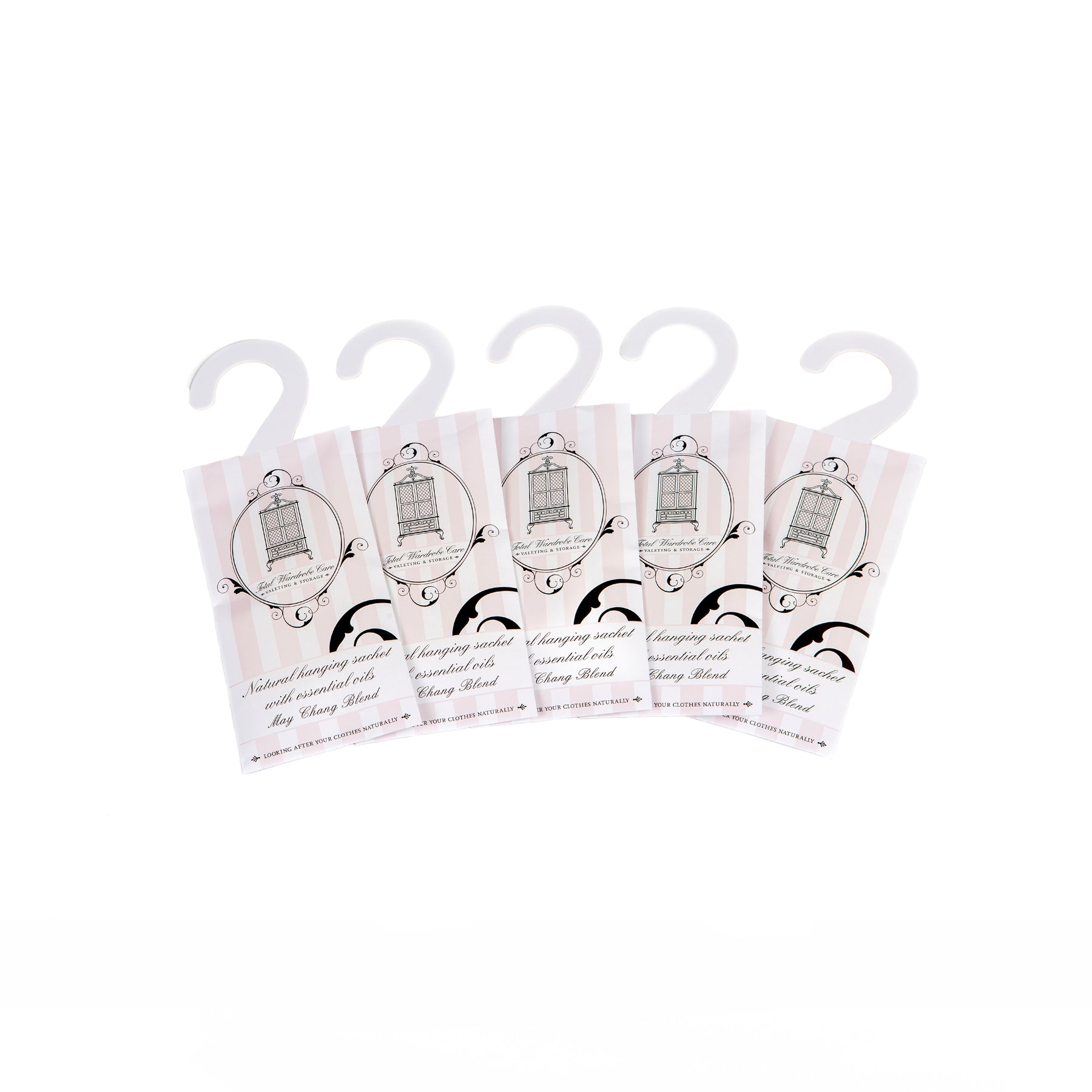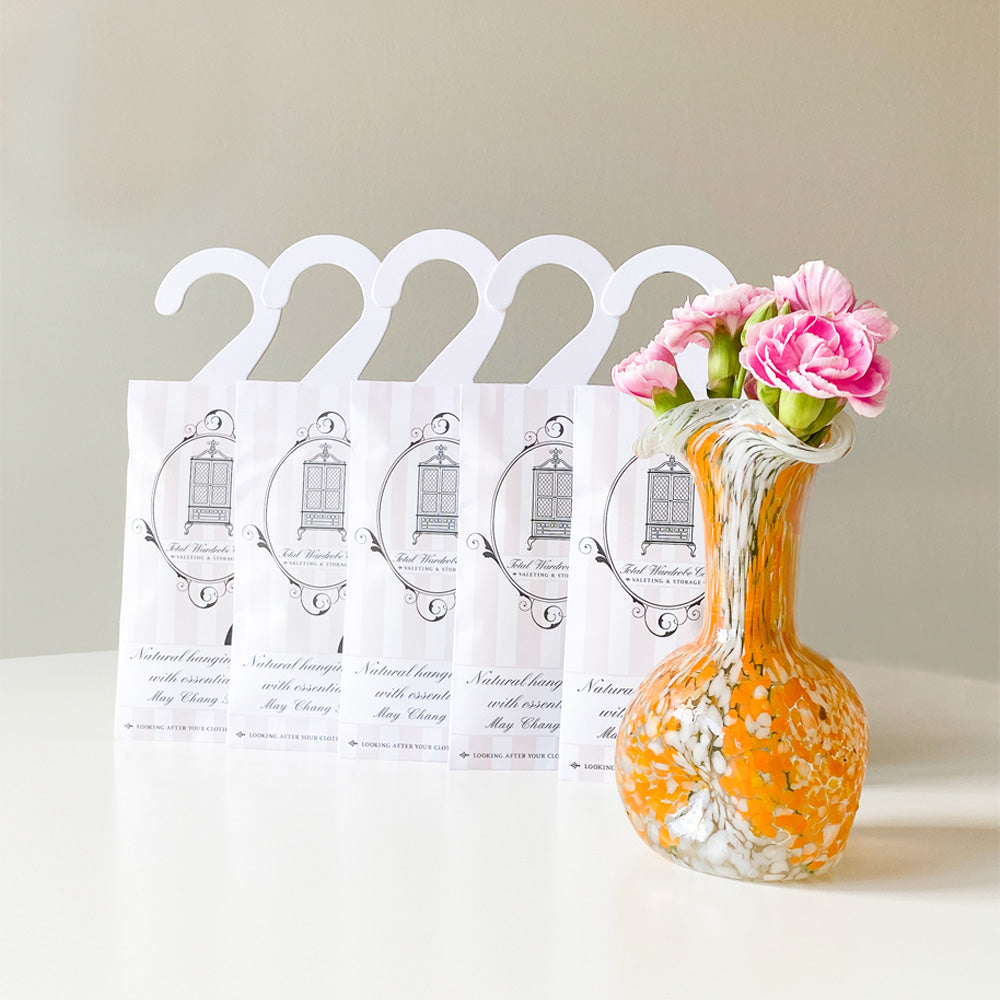 Hanging Sachet - May Chang Blend
Pickup available at Total Wardrobe Care
Usually ready in 24 hours
Hanging Sachet - May Chang Blend
Single
Total Wardrobe Care
Pickup available, usually ready in 24 hours
Unit 4 Farringdon Industrial Centre, The Old Station Yard
Lower Farringdon, Hampshire GU34 3DD
United Kingdom
Our moth repellent May Chang hanging sachet is a spicy sweet lemon-like aroma and is an all-natural fragrance that not only deters moths but keeps your wardrobe smelling fresh and beautifully aromatic.

Our special blend of ingredients contains May Chang, Lavender, Cedarwood, Patchouli, Laurel, Rosemary, Thyme & Clove Bud. These properties have been trusted for centuries as effective moth deterrents and have been precisely selected for these all-natural sachets.
Female moths are looking for somewhere dark and undisturbed to lay their eggs and when they hatch, it's the larvae that eat the protein in the fibres of your clothes and soft furnishings and make the holes. The female moth hates a strong smell and so avoids highly scented, light and clean areas.
HANDMADE IN THE NEW FOREST, ENGLAND
All of our ingredients come from natural sources and no artificial fragrance, colours or parabens have been used. They emanate uplifting, toning, healing and comforting properties that help to cleanse the air and effectively deter moths. Handmade in the New Forest and inspired by nature, Total Wardrobe Care has worked with an aromatherapist and perfumier to produce these fragrantly effective sachets to ensure a moth-free and aromatic wardrobe.

The hanging sachet is made using a stone powder as a base and the essential oil blend is mixed into the powder, this makes it last at least 6 months and gives off a natural pleasing woody and citrusy fragrance to your wardrobe.
Place 1 every 50cms, so an average wardrobe would have 3 sachets. Don't forget to replace every 6 months. The key to a moth free wardrobe is cleanliness and consistency.
DID YOU KNOW?
We have new 100% Compostable Packaging! Pop it on your compost or in your food waste bin. Lookout for the new Natureflex sticker on our Hanging Sachets, Drawer Sachets, Scented Ovals & Drawer Liners. We are really proud to be contributing to saving the environment. 
MEASUREMENTS
Each Hanging Sachet: 22 x 8cm.
Hang on your rail, every 50cm.

- HANDMADE in the New Forest, England
- No artificial fragrance, colours or parabens have been used
- ESSENTIAL OIL BLEND: May Chang, Lavender, Cedarwood, Patchouli, Laurel, Rosemary, Thyme & - - -- Clove Bud
- Repels moths
- Hang every 50cm
- Replace every 6 months
Your Questions
FAQs
Below you will find some common questions asked by our customers.
May Chang is a revitalising and balancing essential oil that would make wardrobes or storage cupboard smell lovely. More importantly, it is one of the best natural-anti moth scents too.
Anti-moth Hanging Sachets slowly release their scents to deter moths. This is why they are best placed around your wardrobes or room in regular intervals- for maximum efficiency.
No, our Hanging Sachets do not kills moths. Only our Moth Trap Boxes or Chrysanthemum Spray can kill moths. To kill eggs or larvae, clean, comb and steam your clothes regularly.
As it's a natural essential oil, May Chang can cause skin irritation to animals. If you're hanging your sachets in a walk in wardrobe that your animals could access make sure to hang things high up so they cannot reach them.