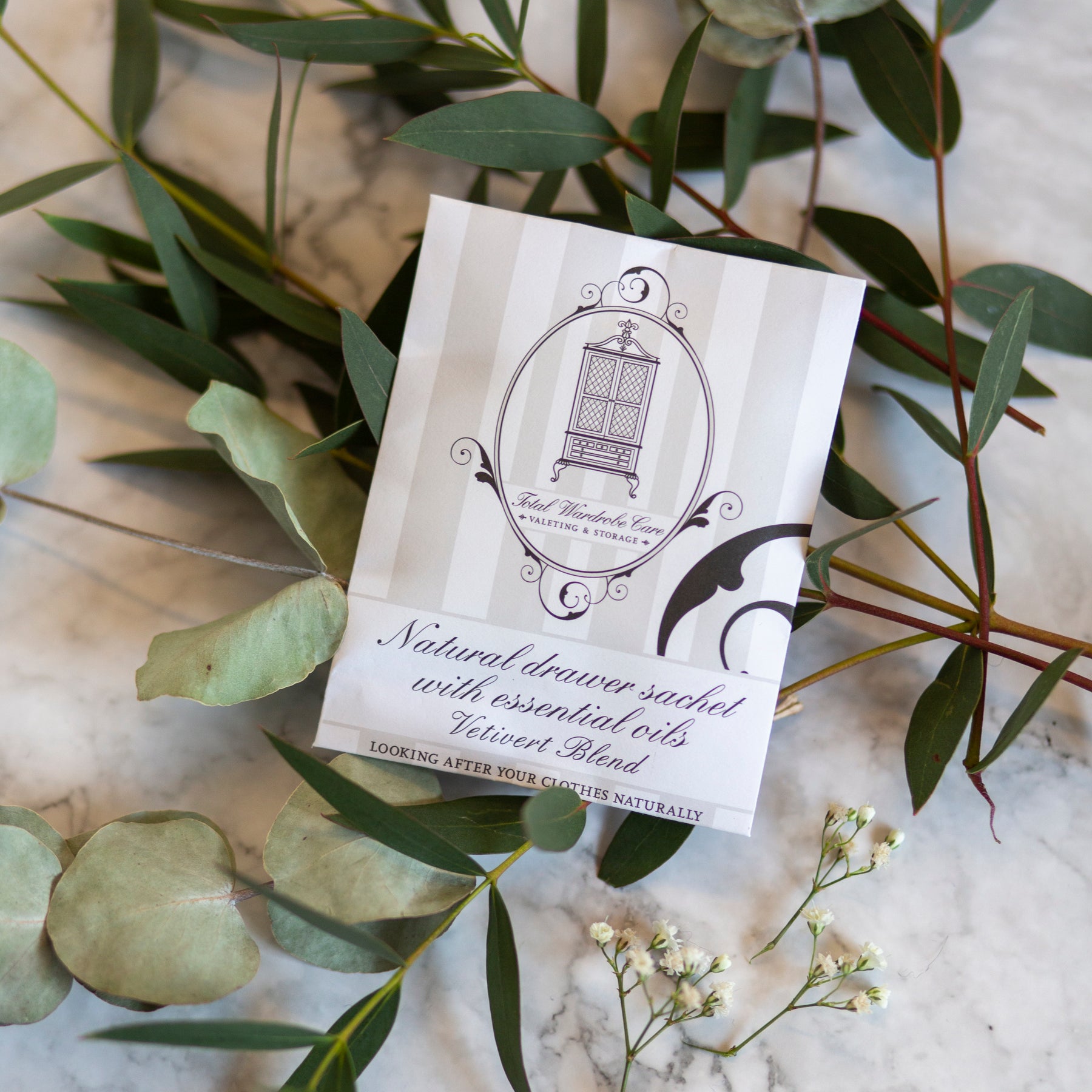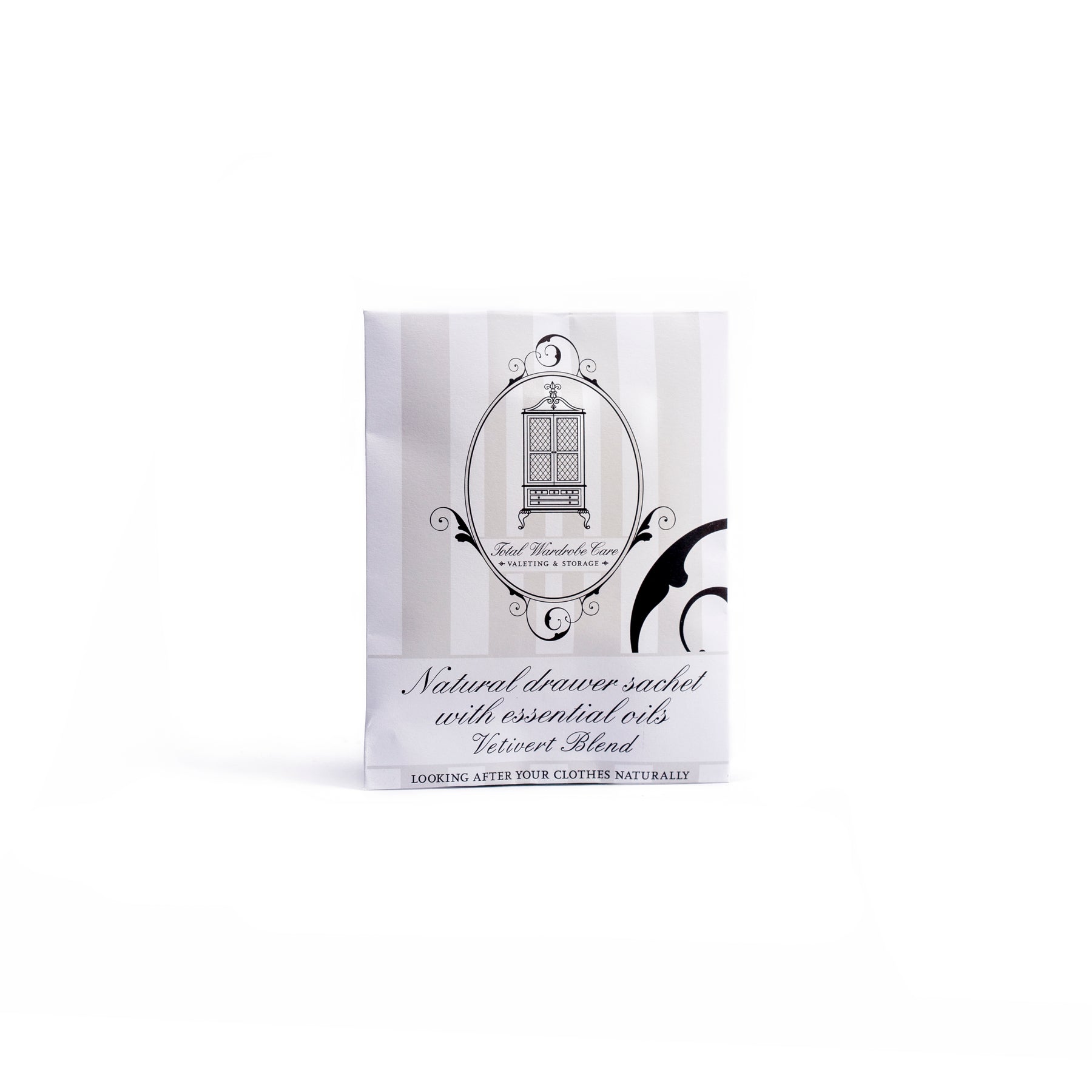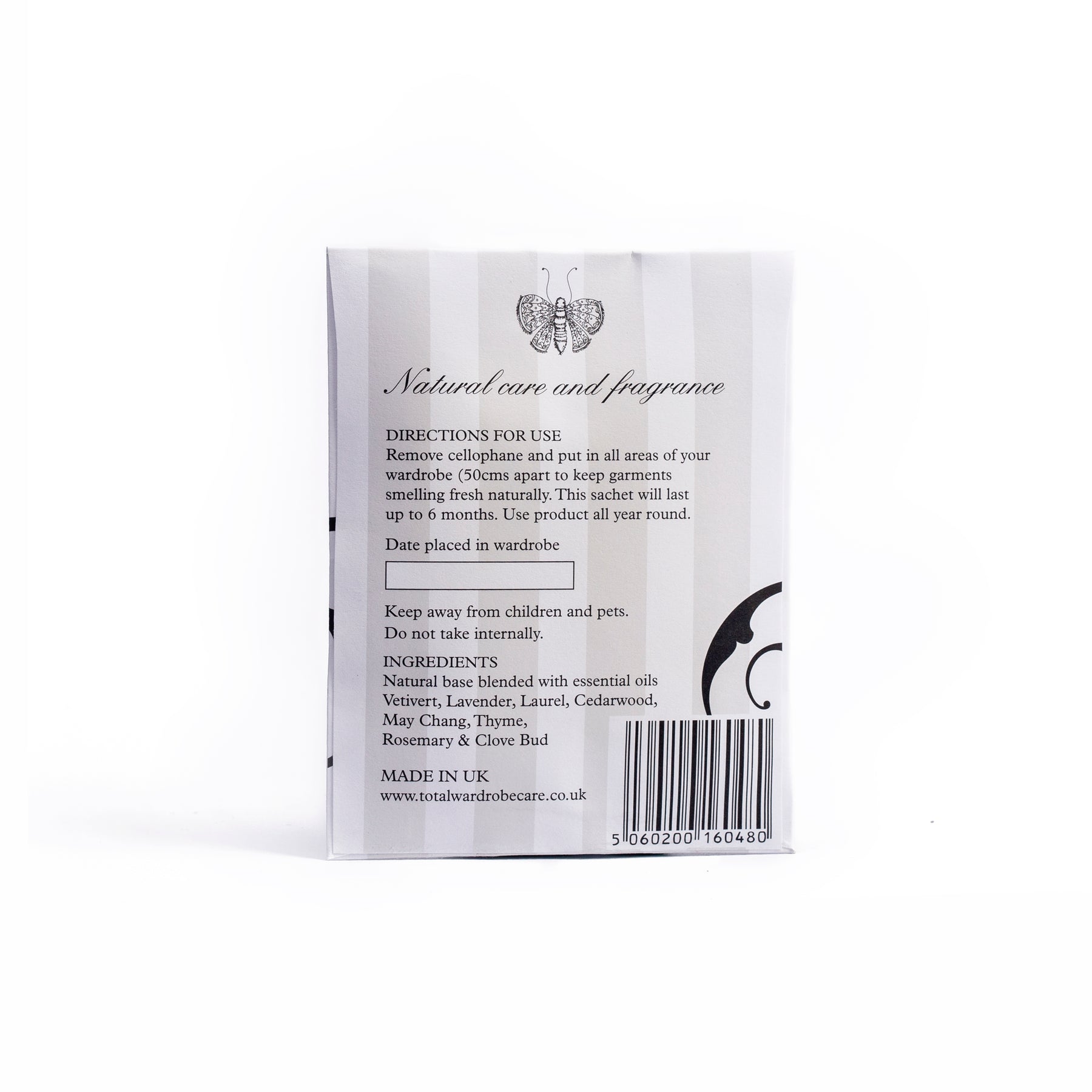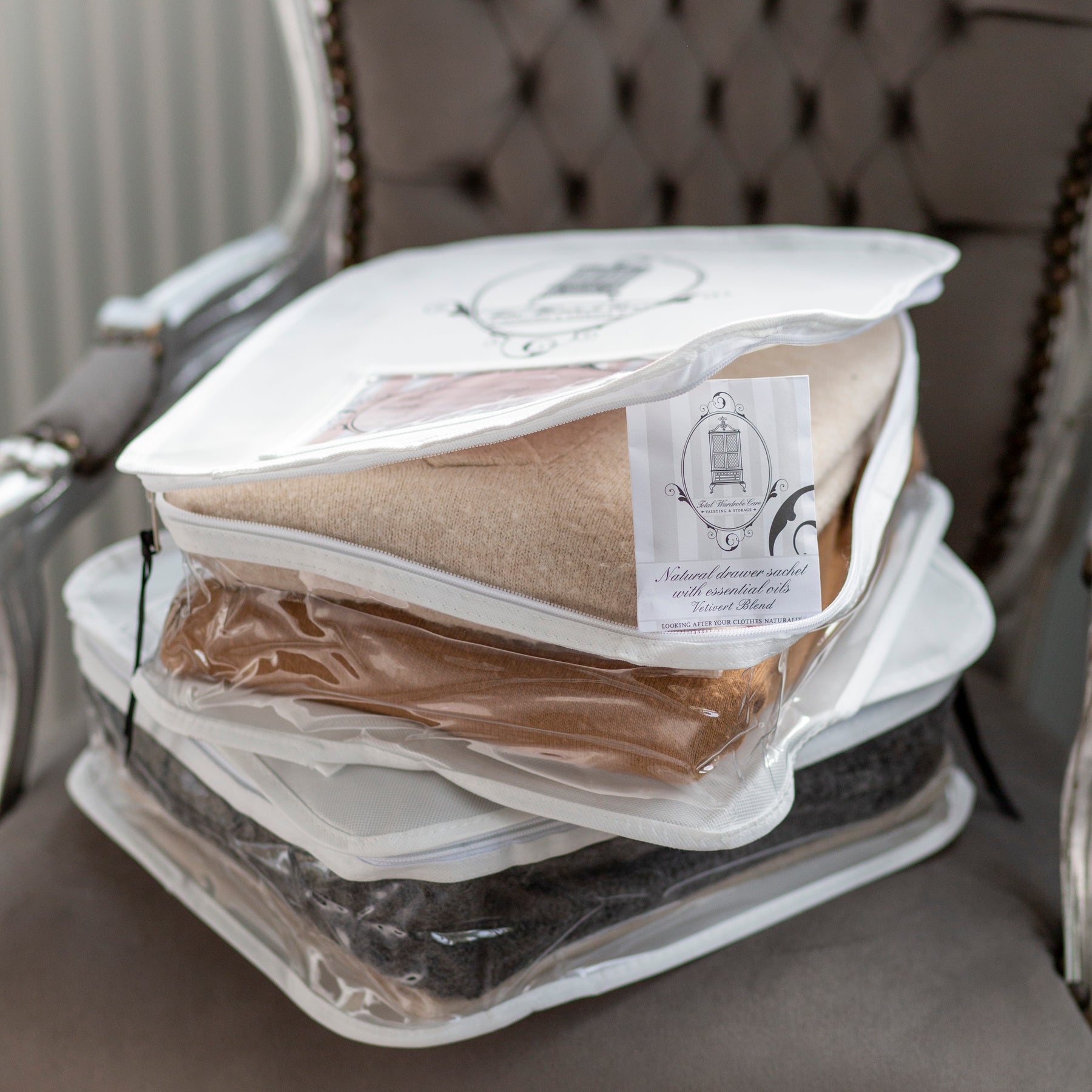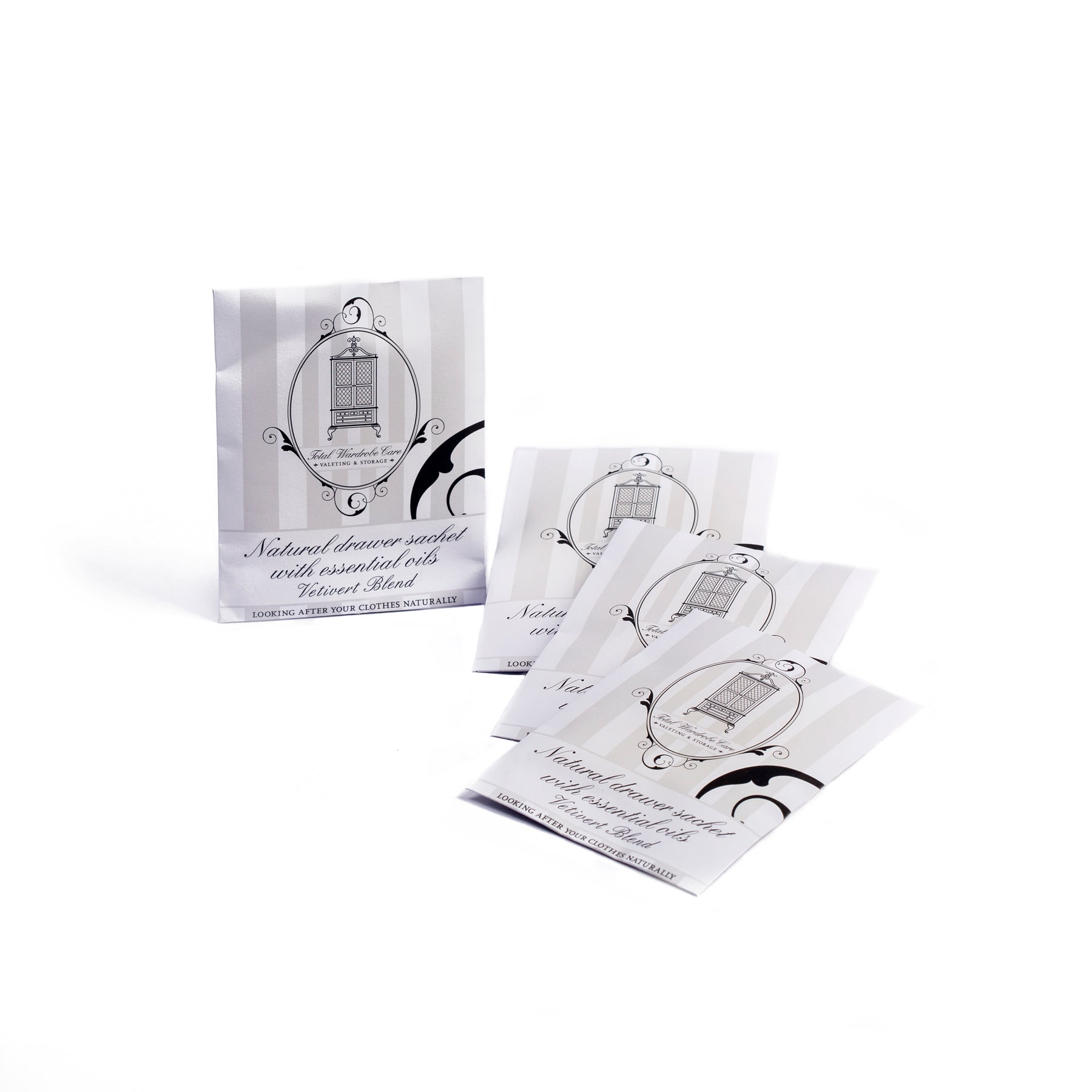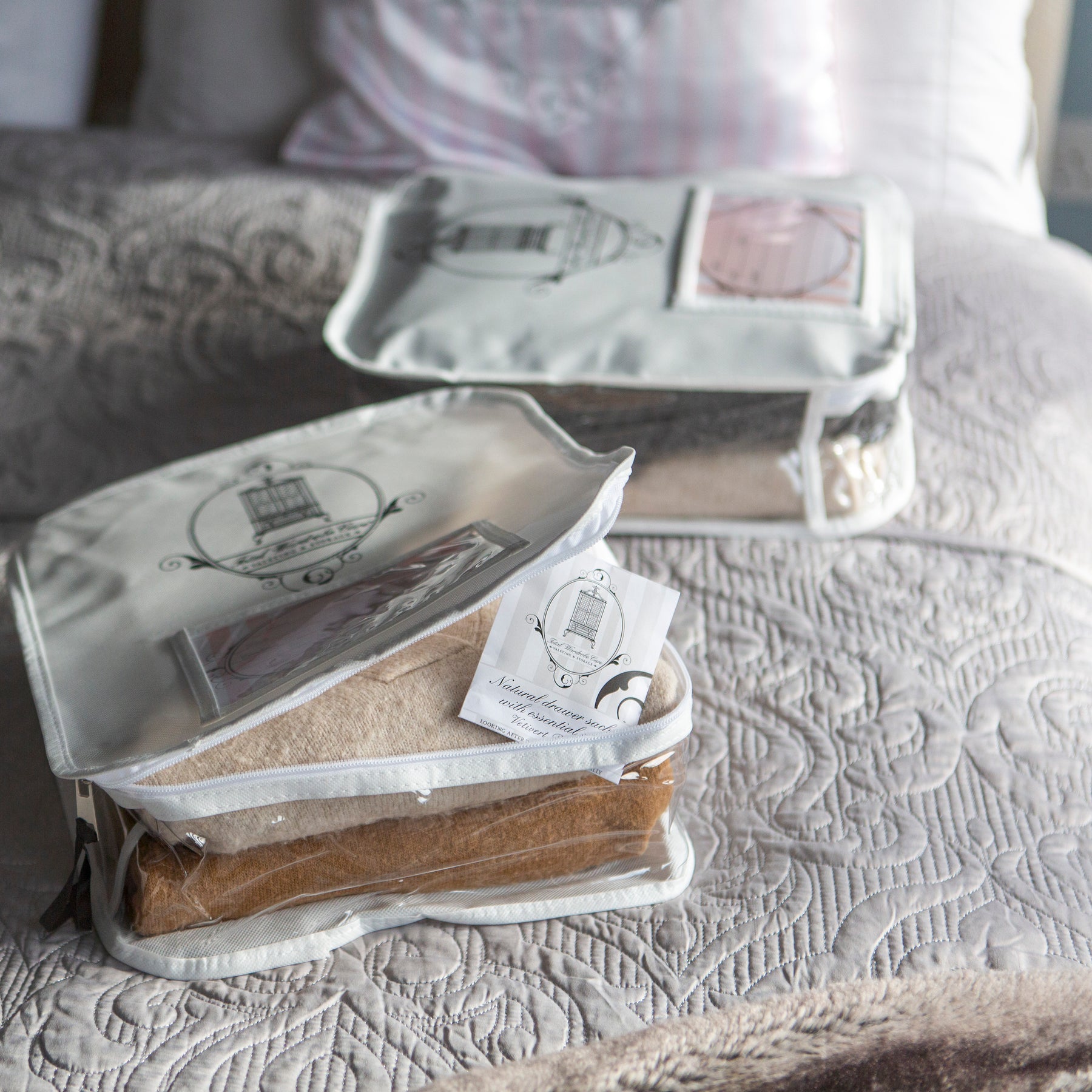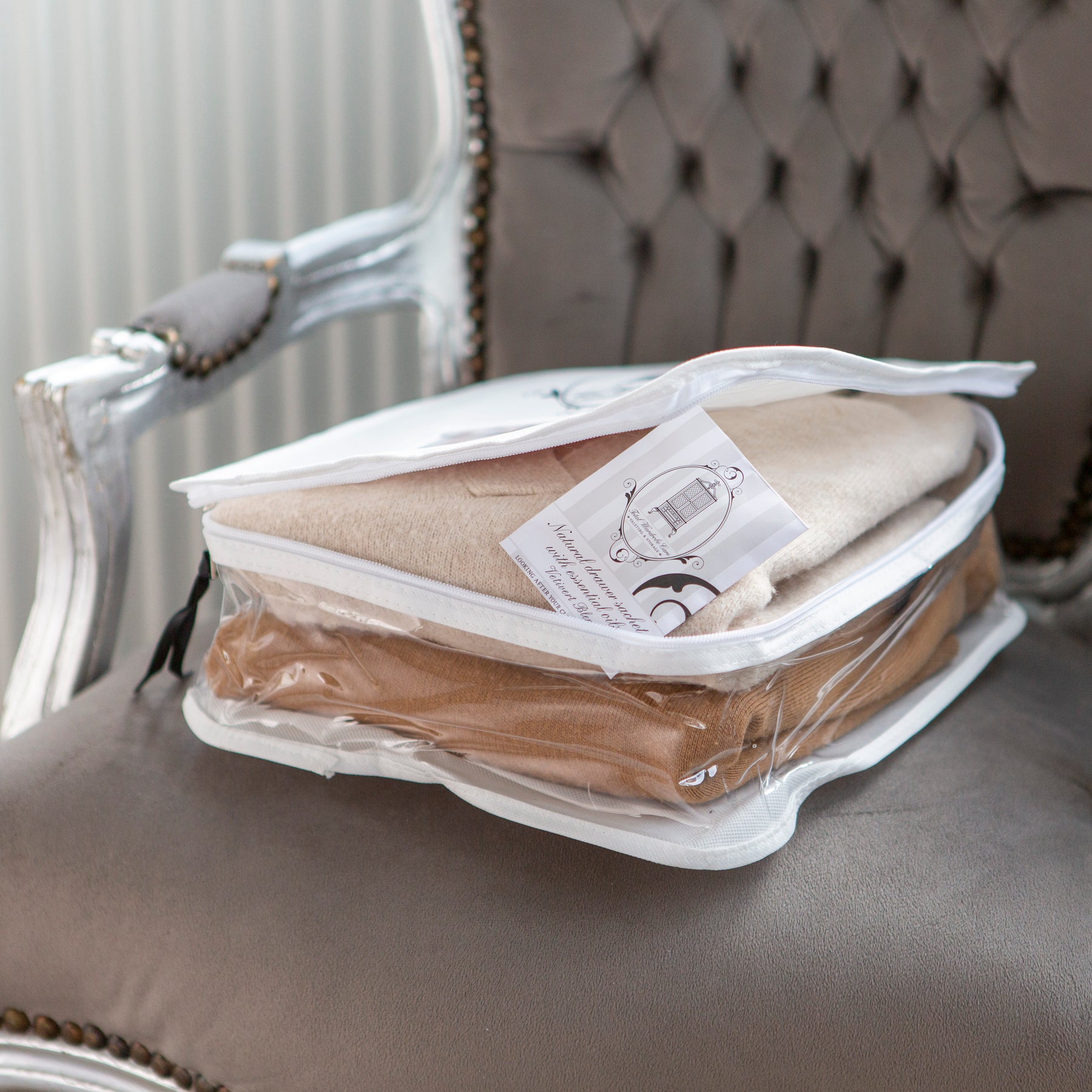 Drawer Sachet - Vetivert Blend
Pickup available at Total Wardrobe Care
Usually ready in 24 hours
Drawer Sachet - Vetivert Blend
Single
Total Wardrobe Care
Pickup available, usually ready in 24 hours
Unit 4 Farringdon Industrial Centre, The Old Station Yard
Lower Farringdon, Hampshire GU34 3DD
United Kingdom
Our natural moth repellent vetivert drawer sachets are filled with an all-natural recipe of anti-moth essential oils. Handmade in the UK, they will deter moths, protecting and refreshing the clothes in your drawers and shelves for approximately 6 months.
HANDMADE & NATURAL
All of our ingredients come from natural sources and no artificial fragrances, colours or parabens have been used. Our sachets contain a special blend of delicious-smelling natural ingredients: Vetivert, Lavender, Cedarwood, Patchouli, Laurel, Rosemary, Thyme & Clove Bud. Once opened the sachet will release a natural, anti-moth fragrance which will help to protect your clothes for approximately 6 months.
THE SCENT
Deep, earthy & smokey
HOW TO USE
Place 1-2 on every shelf in the wardrobe and 1-2 in every drawer. Don't forget to replace it every 6 months. The female moth hates strong smells so avoids highly scented areas. The key to a moth-free wardrobe is to keep it clean and consistent.

DID YOU KNOW?
We have new 100% Compostable Packaging! Pop it on your compost or in your food waste bin. Lookout for the new NatureFlex sticker on our Hanging Sachets, Drawer Sachets, Scented Ovals & Drawer Liners. We are really proud to be contributing to saving the environment. 
MEASUREMENTS
Each Drawer Sachet: 10 x 8cm
- Handmade in the New Forest, England
- No artificial fragrance, colours or parabens have been used
- 100% Fully Compostable Packaging
- ESSENTIAL OIL BLEND: Vetivert, Lavender, Cedarwood, Patchouli, Laurel, Rosemary, Thyme & Clove Bud
- Deep, earthy & smokey
- Repels moths
- Replace every 6 months
Your Questions
FAQs
Below you will find some common questions asked by our customers.
Vetivert essential oil is extracted from the root of clumpy, green grass found in India. Deep, earthy & smokey, it is popular for perfumery and aromatherapy and naturally repels moths.
The Vetivert Drawer Sachet has been blended with rich essential oils to create a long lasting fragrance which will smell wonderful in your drawer or wardrobe. When it is first taken out of it's packaging, the sachet will small strong, but once it is in your wardrobe or drawer it will emit a beautiful and constant aroma which keeps the female moth away.
The Vetivert Sachet is designed to last for 4-6 months in your drawer or your wardrobe. Each pack, comes with 4 sachets and each stays fresh in their innovative NatureFlex packaging until you are ready to use it.
Yes, the Vetivert Drawer Sachet is a deep, earthy and smokey fragrance which works well in a mans wardrobe or drawer. You might be able to perceive citrusy notes. It has often been compared to lemongrass but holds a much stronger earthy and woody scent.