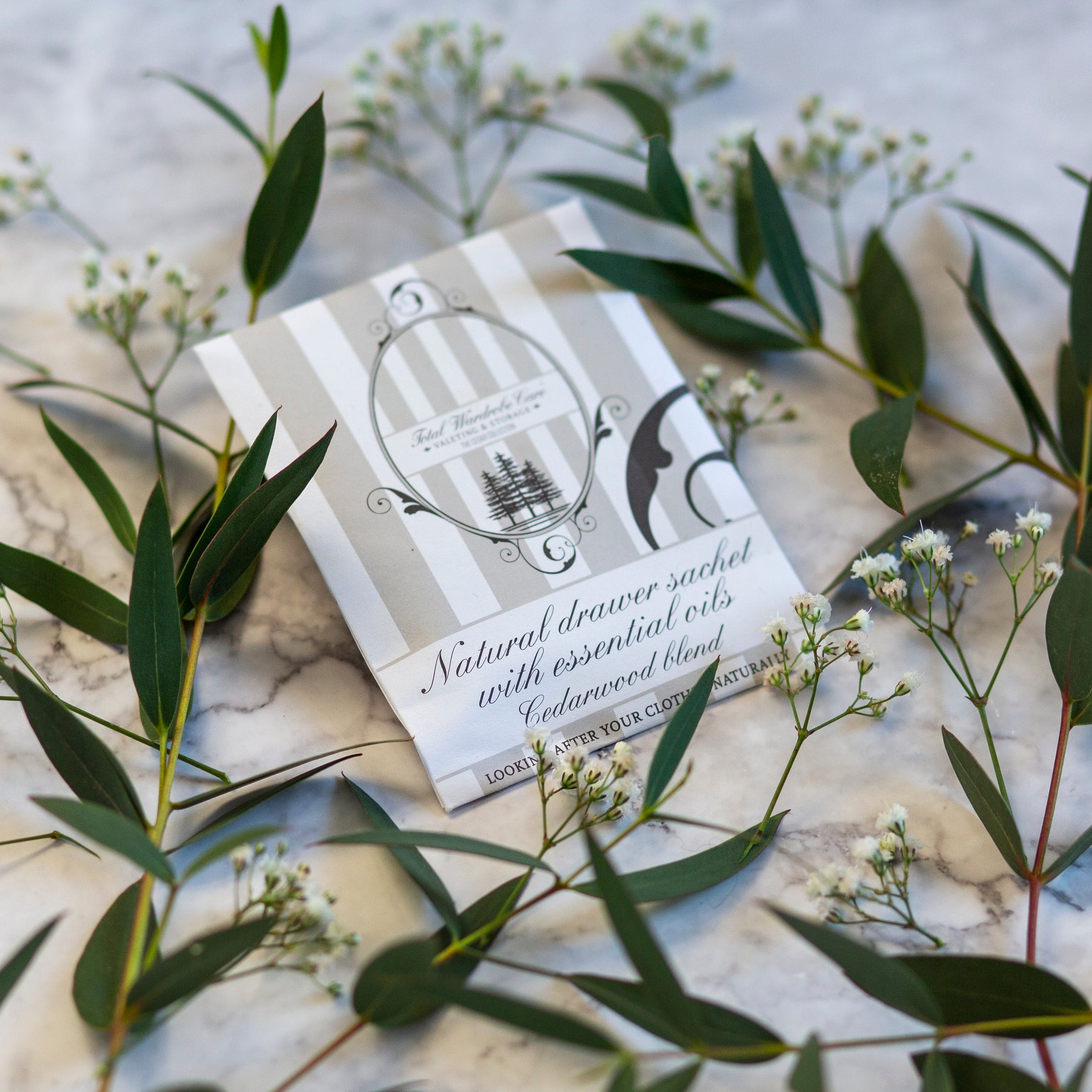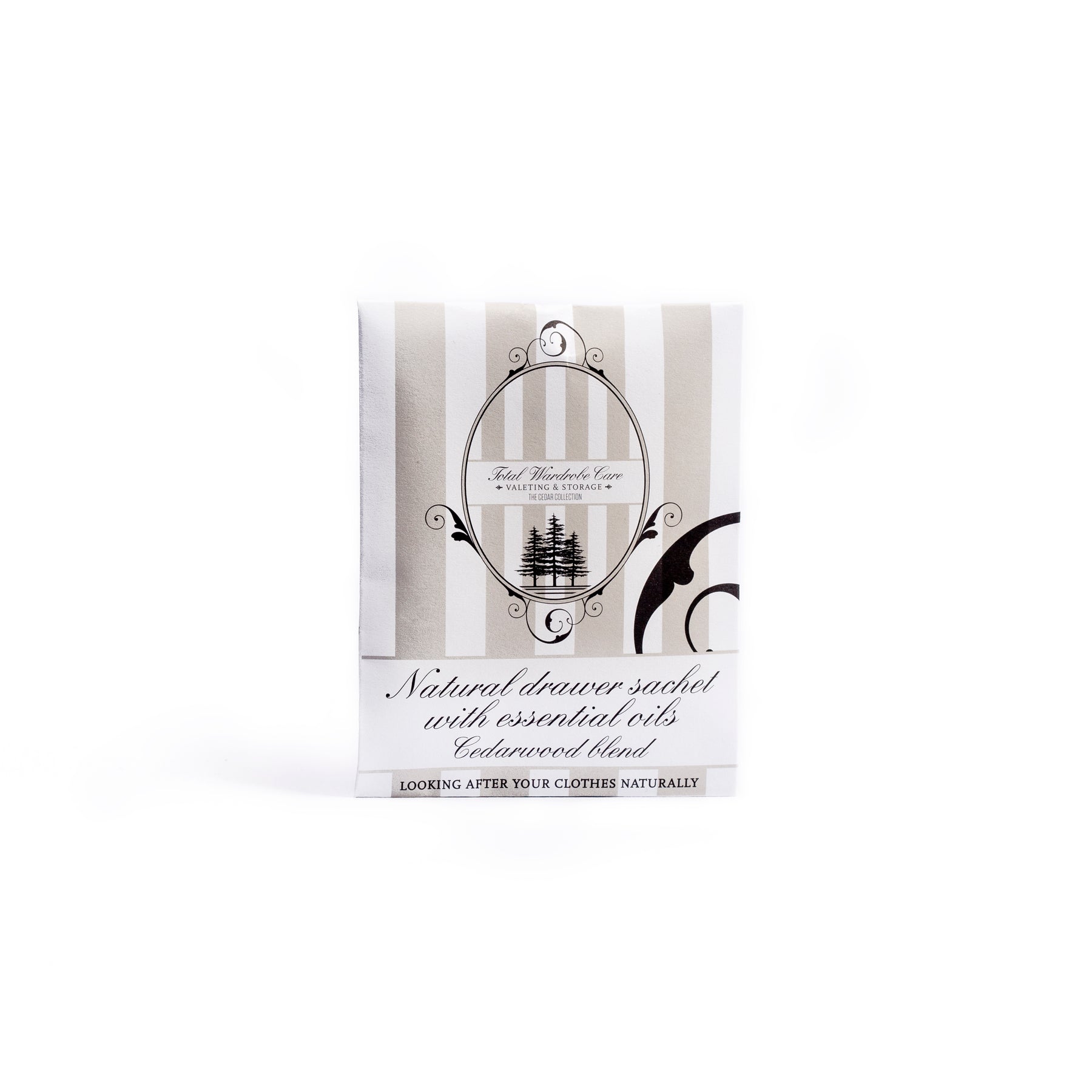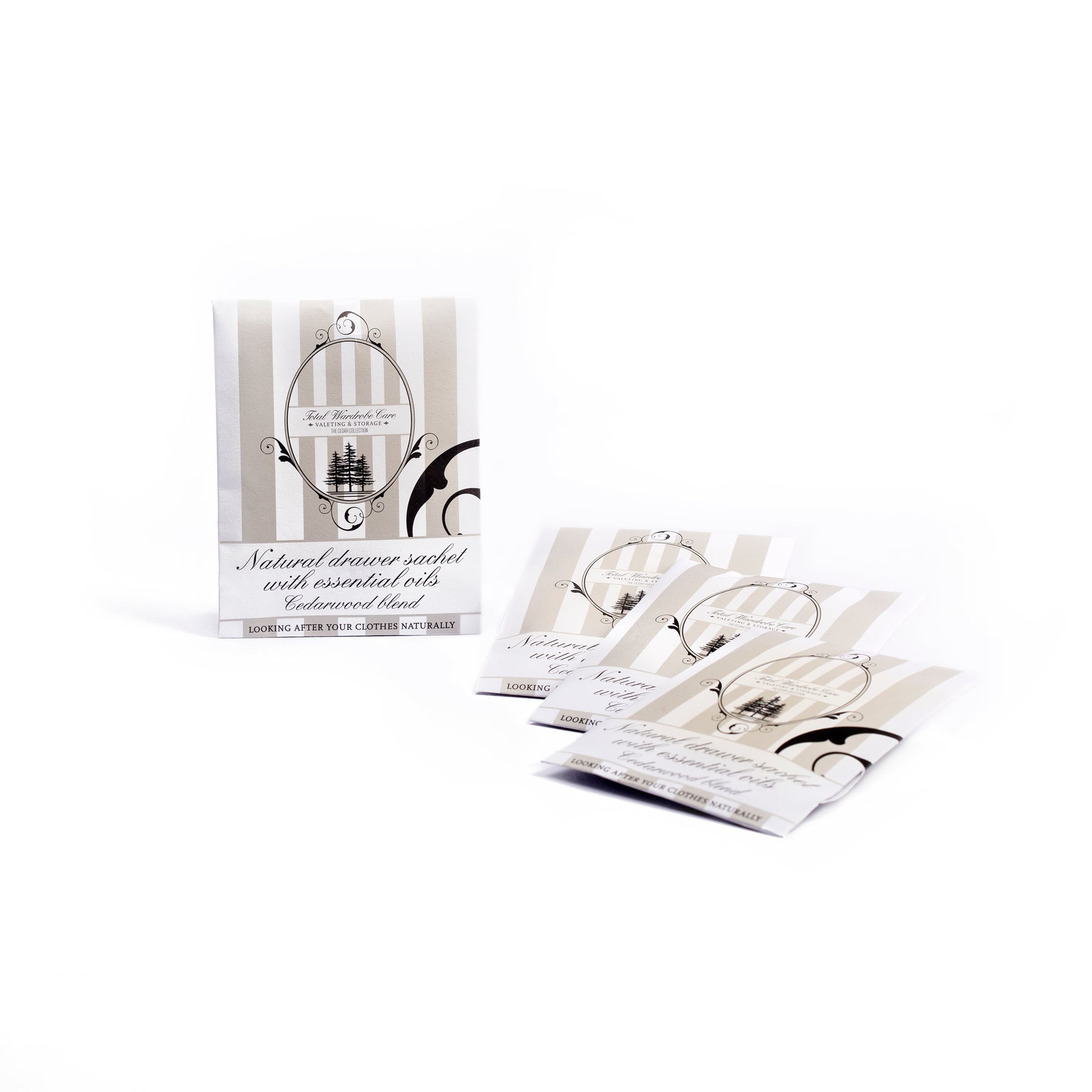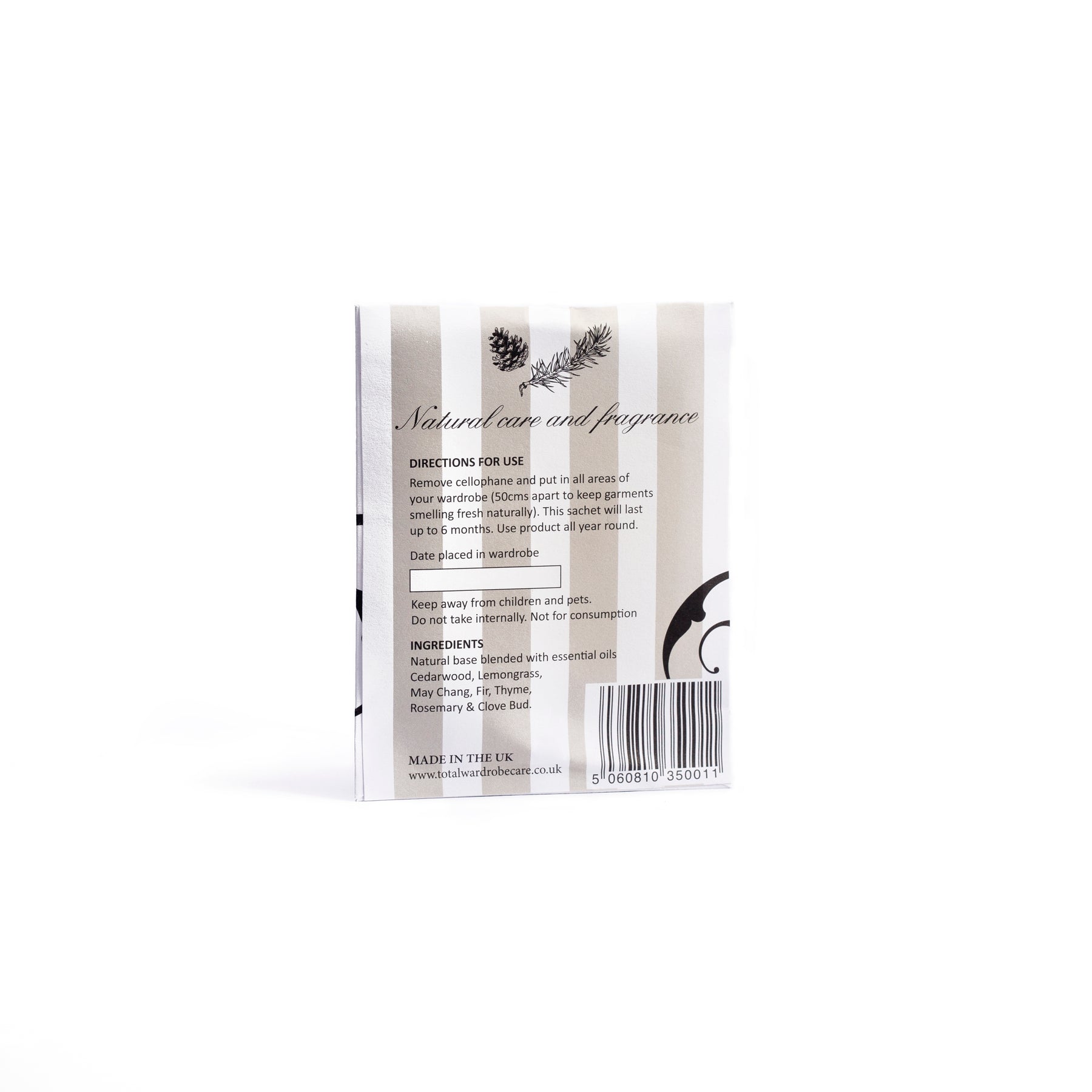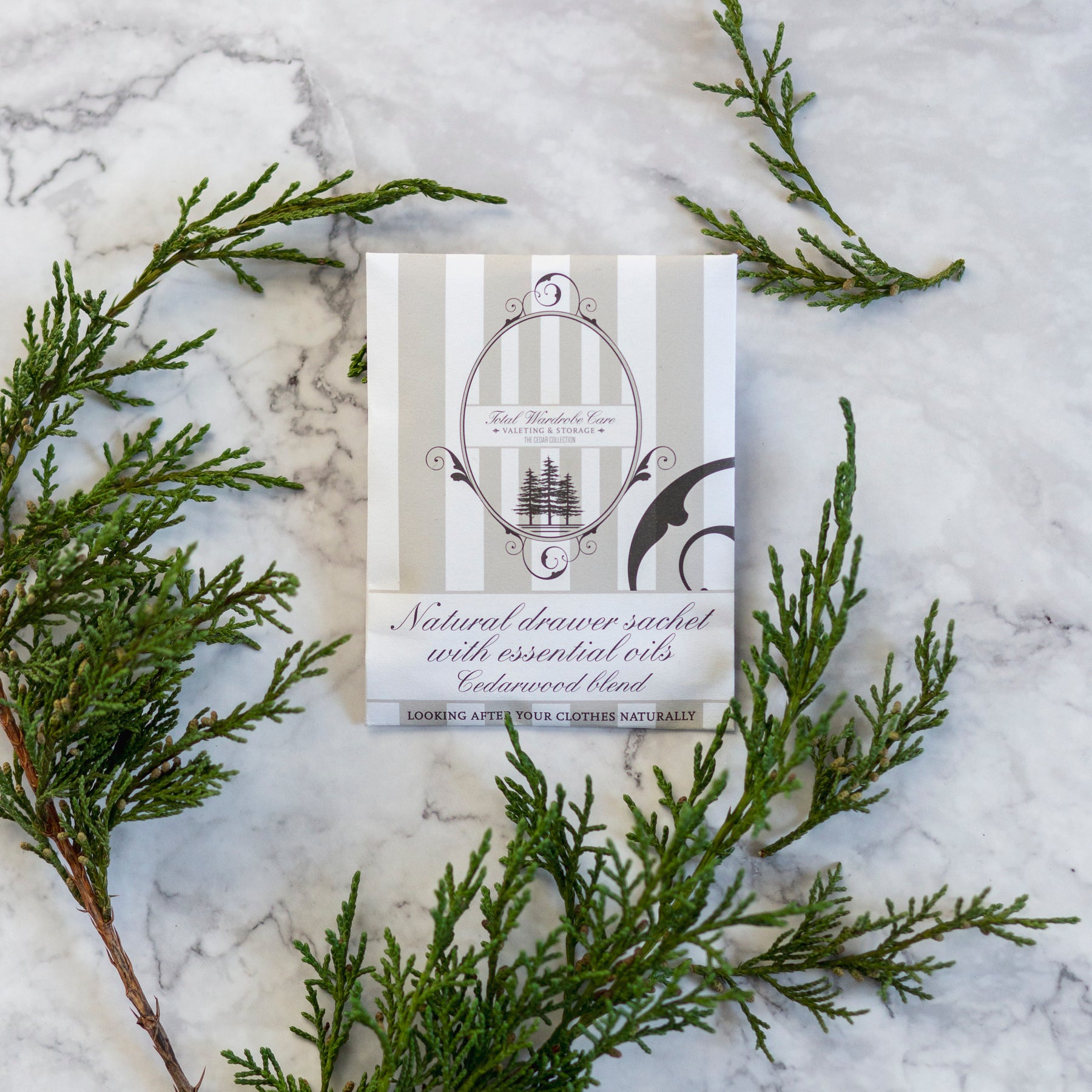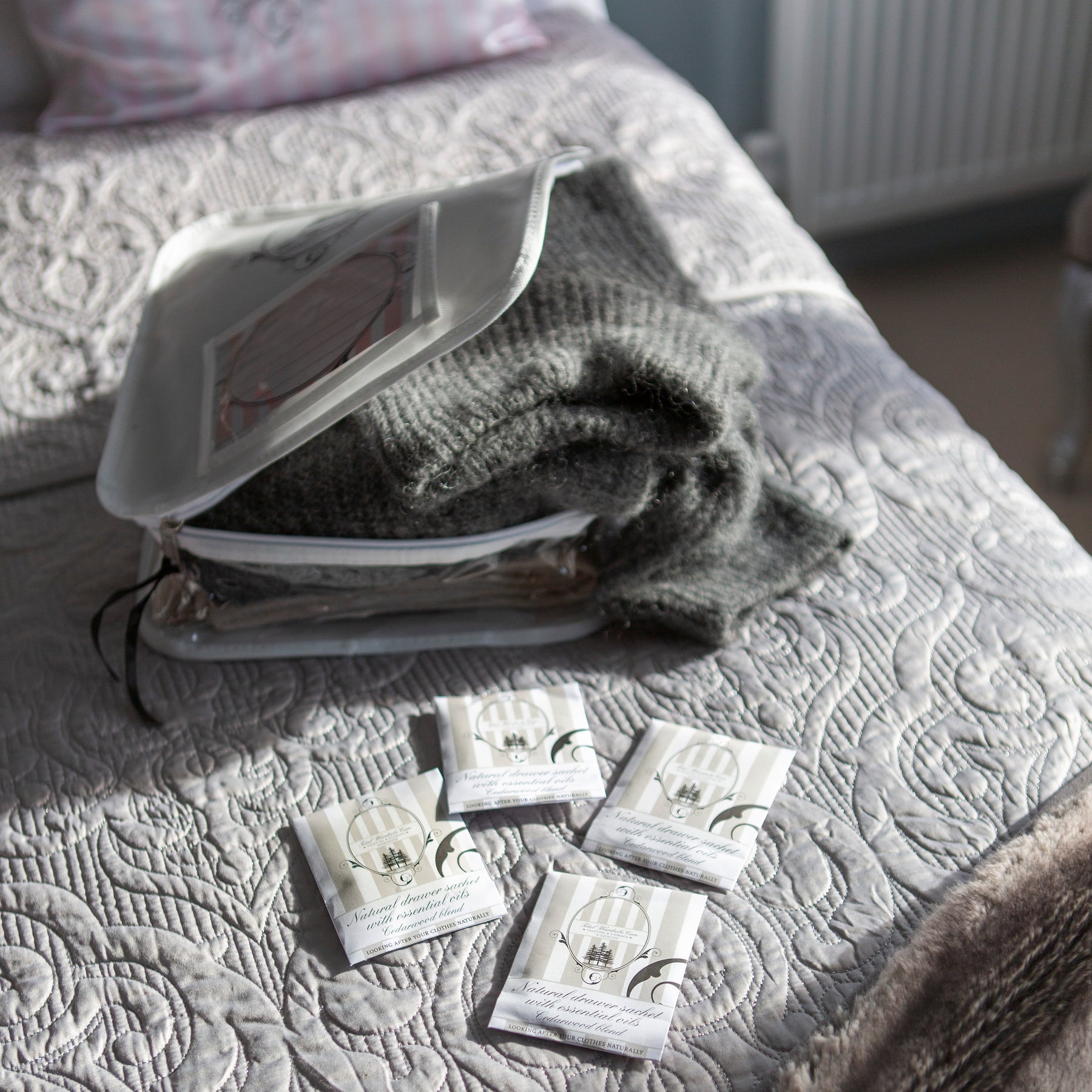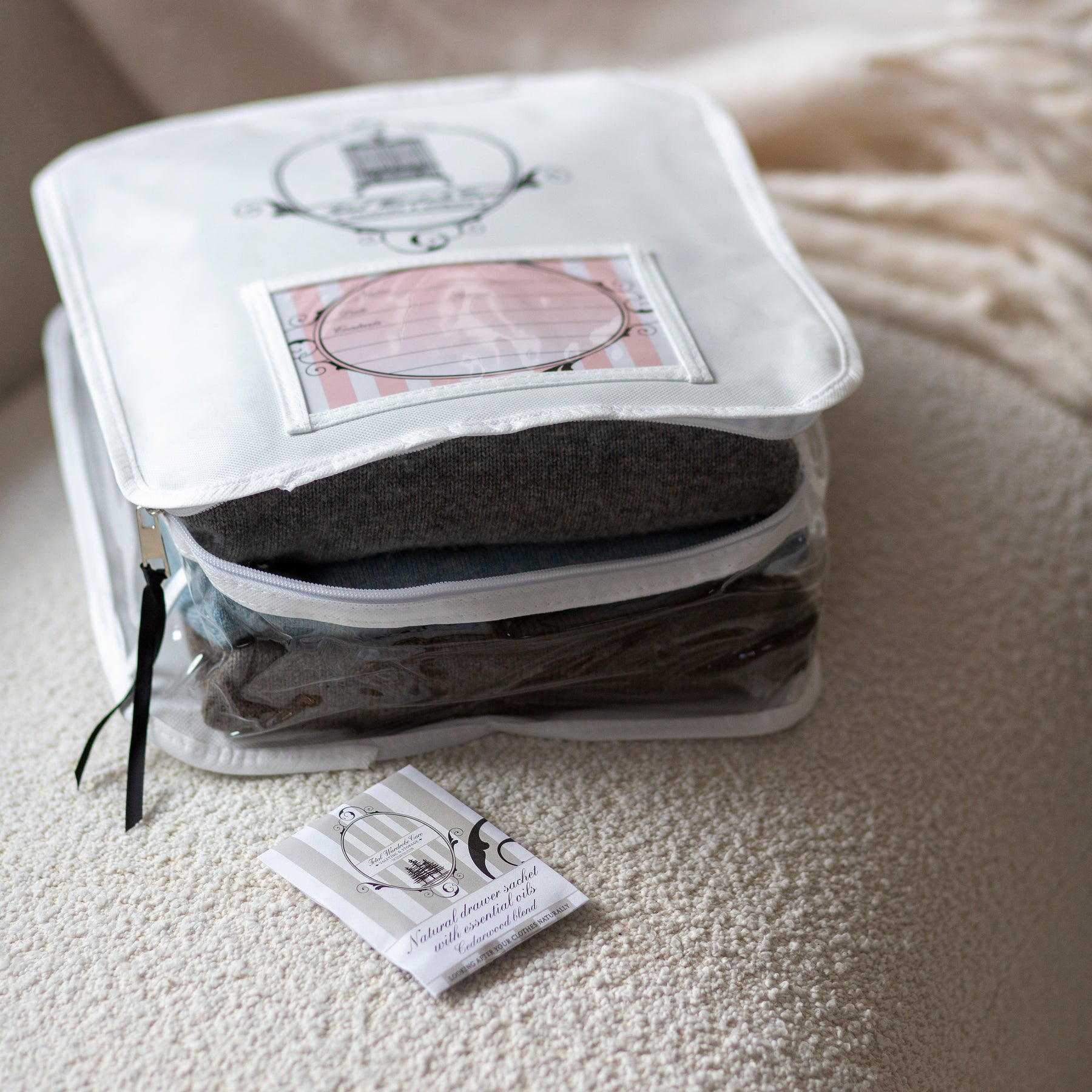 Drawer Sachet - Cedarwood Blend
Pickup available at Total Wardrobe Care
Usually ready in 24 hours
Drawer Sachet - Cedarwood Blend
Single
Total Wardrobe Care
Pickup available, usually ready in 24 hours
Unit 4 Farringdon Industrial Centre, The Old Station Yard
Lower Farringdon, Hampshire GU34 3DD
United Kingdom
Our moth-repelling Cedarwood Drawer Sachet has been specially formulated for Total Wardrobe Care with a careful mix of natural ingredients including Cedarwood, Lemon Grass, May Chang, Fir, Thyme, Rosemary & Clove Bud. Each one is chosen for its special properties that help to keep your wardrobes and soft furnishings smelling fresh and free from moths.
HANDMADE IN THE NEW FOREST, ENGLAND.
All of our ingredients come from natural sources and no artificial fragrances, colours or parabens have been used. Made in the New Forest, England by our specialist perfumier, the Drawer Sachet is made using a stone powder as a base, and the essential oil blend is mixed into the powder. This makes it last at least 6 months.

THE SCENT
Woody, earthy & citrusy
WHY DO MOTHS NOT LIKE CEDARWOOD?
The natural oils in Cedarwood contain compounds that repel insects including clothes moths. Historically, Cedarwood chests were built and used to store valuable objects and protect out-of-season clothing and blankets. It was known that Cedarwood deterred insects and moths while keeping material items smelling fresh and fragrant.
HOW TO USE
Place 1-2 on every shelf in the wardrobe and 1-2 in every drawer. Don't forget to replace it every 6 months. The female moth hates strong smells so avoids highly scented areas. The key to a moth-free wardrobe is to keep it clean and consistent.

DID YOU KNOW?
We have new 100% Compostable Packaging! Pop it on your compost or in your food waste bin. Lookout for the new NatureFlex sticker on our Hanging Sachets, Drawer Sachets, Scented Ovals & Drawer Liners. We are really proud to be contributing to saving the environment. 
MEASUREMENTS
Each Drawer Sachet: 10 x 8cm
Set of 4 Drawer Sachets
- Handmade in the New Forest, England
- No artificial fragrance, colours or parabens have been used
- 100% Fully Compostable Packaging
- ESSENTIAL OIL BLEND: Cedarwood, Lemon Grass, May Chang, Fir, Thyme, Rosemary & Clove Bud
- Woody, earthy & citrusy
- Repels moths
- Replace every 6 months
Your Questions
FAQs
Below you will find some common questions asked by our customers.
All of the ingredients we use are safe to handle. Pure essential oils are mixed with a stone powder to make a very effective and long lasting deterrent. The Drawer Sachet is securely fastened to make sure the contents stays inside.
The Cedarwood Sachet stays fresh inside its packaging until you want to use it. Once you open our 100% compostable NatureFlex packaging and take the sachet out, it will last in your drawers or wardrobe for 4-6 months.
When you first open your Cedarwood Sachet you will notice that it smells very strong. Once it has been out of it's packaging, this will calm down. Place 1 sachet per single drawer, or 2 sachets for a big drawer. The stronger the smell, the less likely the female moth is to come.
The Cedarwood Drawer Sachet is 100% compostable, including it's innovative NatureFlex packaging.